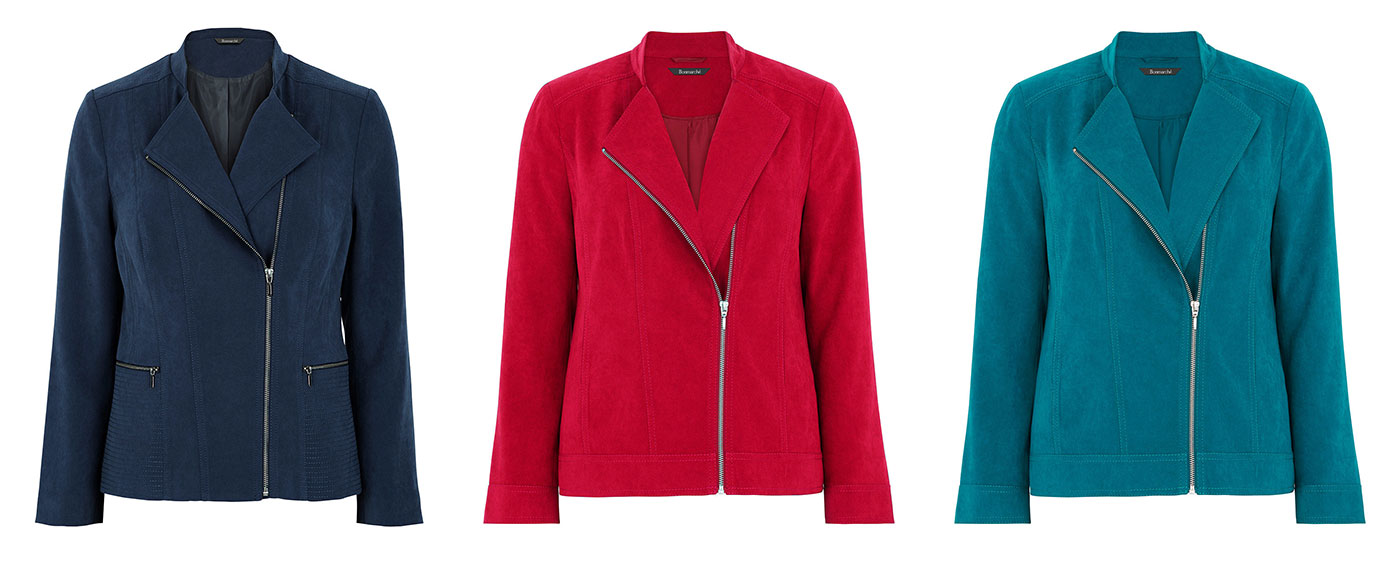 If there's one piece of outerwear that will never go out of fashion, it's the Biker Jacket. This style of jacket pops up season after season, and it's no fluke why! The structured shape is a flattering fit on all body shapes, whilst the rugged fastenings and rigid collar bring a cool look to any outfit. You don't have to be a biker chick to rock a biker jacket, but if you're not convinced yet, let us show you three refreshing ways to work the jacket into your wardrobe – no motorcycle required!
1
Create a city chic look in an instant by simply throwing this jacket on over any outfit. The navy colour means it will look perfect teamed with anything from your favourite denims to your elegant dresses. Fully lined and in a super soft moleskin fabric, the thickness of this jacket makes it a great transitional piece for autumn, when the weather isn't too hot or too cold.
Team this navy style with our Flute Sleeve Lace Dress; the colours are a match made in heaven, whilst the lace detail adds an extra wow factor to the outfit. And if it's a special occasion you're heading out to, make sure you feel your best with our Shapewear Control Slip; designed to make you look and feel fabulous - even before you've put your outfit on!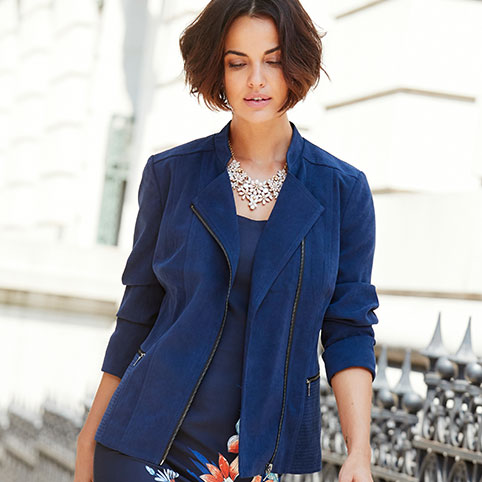 2
Reinvented in colour, but the classic cut is never left behind! This refreshing red shade will bring a burst of brightness to your autumn outfits. Our official style consultant, Mark Heyes tells us why this jacket is his favourite:
"Red is such a huge colour this season and Biker Jackets are here to stay! So if there's one way to work it like the fashionistas, it's with a rocking red number." - Mark Heyes
We couldn't agree more! What better reason to feel bold, brave and confident in this fabulous shade that's complimentary to all skin tones. Key for layering with comfy knits like this pretty pink Turtle Neck, and why not switch up your regular denims for these grey Tie Waist Trousers to give a smart and sophisticated look.
3
If navy and red aren't your colours, this teal number will be sure to catch your eye instead! Fully lined with zip fastenings and detailed pockets, as well as intricate cut work detail to the shoulders, this design has all the elements PLUS that vibrant colour. Here's Mark's top styling tip for this teal jacket:
"Resist the urge to team this trophy knit with black – an unexpected colour combination instantly adds a striking fashion edge." - Mark Heyes
These eye-popping wide leg trousers in a cranberry shade make an unlikely but perfect pairing to this jacket. Whilst this statement making zig-zag jumper gives your high-street outfit a designer edge.