Whatever the weather throws at you this spring, stay stylish with these new-season jackets…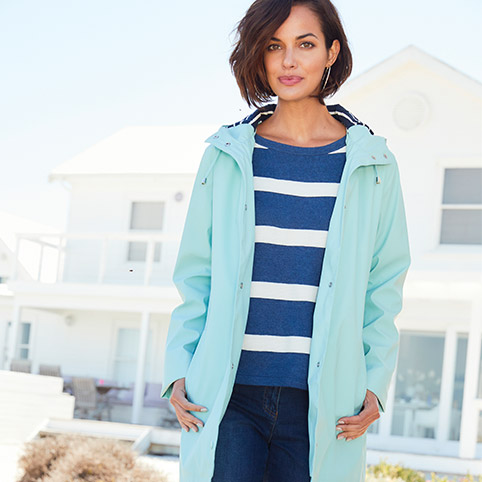 Feeling Blue
The easiest way to brighten up a rainy day is with a vibrantly coloured rain coat! There's nothing worse than being unprepared for bad weather. We've all been there before, stuck in the rain in your denim jacket thinking, "Why didn't I wear a waterproof coat!" It's the dreaded situation we all want to avoid. So prepare for the storms in style with a must-have mac. This modern take on the raincoat is made in a rubberised, shower resistant fabric and is fully lined with a contrast stripe jersey lining to the hood and top body. In a beautiful aqua shade, this coat will be sure to stop you feeling blue.
The Floral Effect
If your looking for a waterproof that will see you through the summer months in style, this jacket is the one for you! Stylish and practical, this fabulous waterproof coat in a striking tropical floral print is perfect for the British weather. Fully waterproof and fully lined, making it exactly what you need for those summer showers. Plus with an adjustable tie in to the waist, this mac will be sure to create the illusion of a sillhouette for a flattering fit.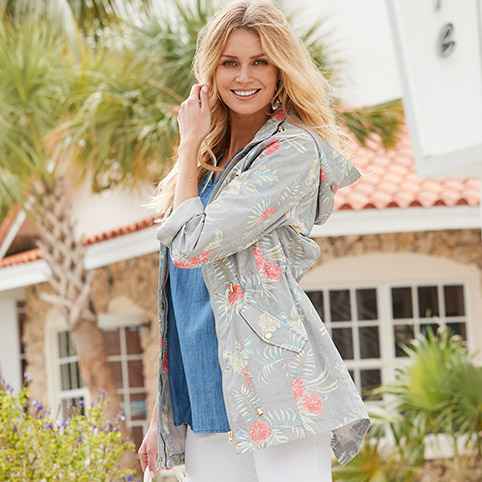 Pretty Pinstripes
When it comes to transeasonal dressing, this neutral coat will see you through all months of the year. It's important to choose a jacket that will easily work with your exsiting wardrobe, that's why the fine navy and white stripes of this design are effortlessly versatile making it easy to build an outfit around. Featuring a detachable hood, concealed zip fastening and front pockets, it's a must-have classic wardrobe staple.
The Nautical
Even if the skies are grey, this graphic stripe jacket will ensure a sunny feel. The pockets are big enough to fit your essentials, and the fabric is breathable and shower proof. Who doesn't love a nautical stripe? Horizontal lines in navy and white tones shout out that classic Breton stripe feel, whilst the hints of orange give the coat a modern twist. Stylish and practical, this fabulous waterproof coat is perfect for the unpredictable British weather.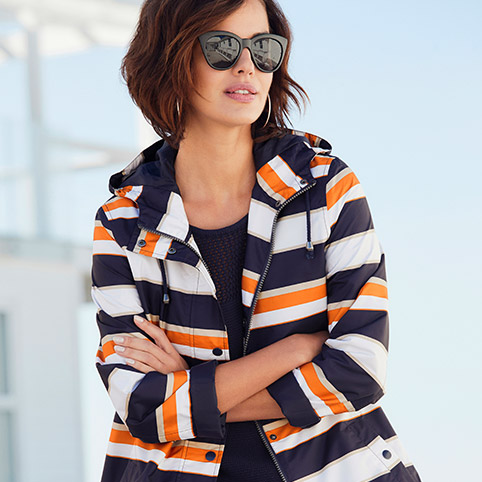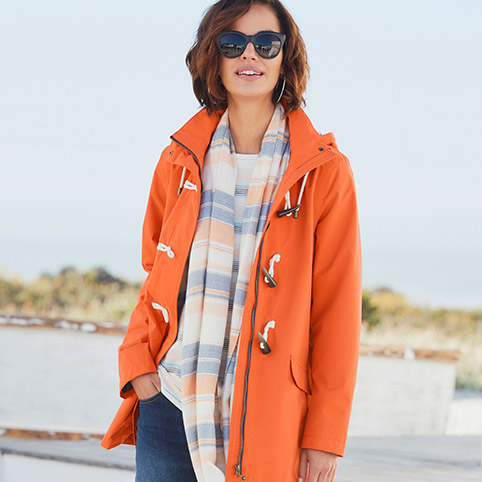 Embrace Orange
Inject some energy into your spring wardrobe with a bold orange mac. With a striped lining, this is the perfect nautical inspired coat to make a statement on a rainy day. In a striking colour, you might worry this coat might be hard to style. But don't worry at all… Pair with boyfriend jeans and flat shoes for an easy to wear outfit, and add a striped top if you're looking for that true nautical inspired vibe.