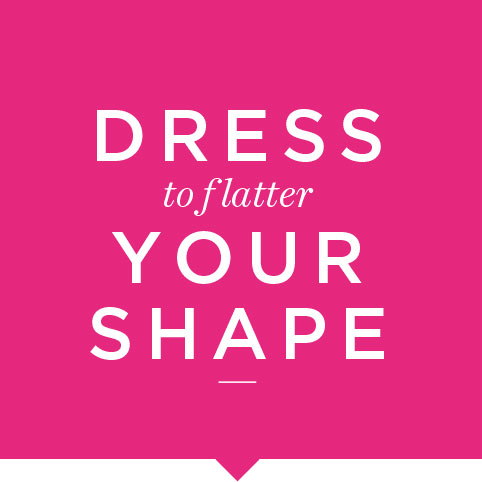 When it comes to boosting confidence, a flattering dress is the ultimate investment. With so many different body shapes out there it can be hard to find the right style for you. That's why we've created a variety of styles to flatter a variety of shapes. We've got four different shapes of dresses; The Fit & Flare, The Swing, The A-Line and The Tunic. Each of these dress shapes have been designed so you can embrace the areas of your body you love the most. These gorgeous dresses provide the perfect solution to define and flatter, making you look and feel fabulous. Dress them up or wear them casually, this selection is versatile and wearable.
The A-LINE dress
Step out in style with this elegant A-Line shape dress. Perfect as a casual daytime dress or as a sophisticated evening outfit. The A-line dress can actually be flattering on a variety of body types. Those who have a more bottom-heavy silhouette may find them especially forgiving and flattering, and those with boyish figures will love the illusion of curves. This dress is the perfect addition to your wardrobe this season as this striped stretch fabric gives a comfortable chic look.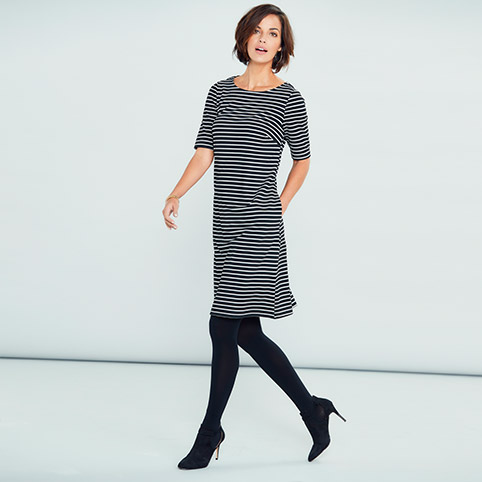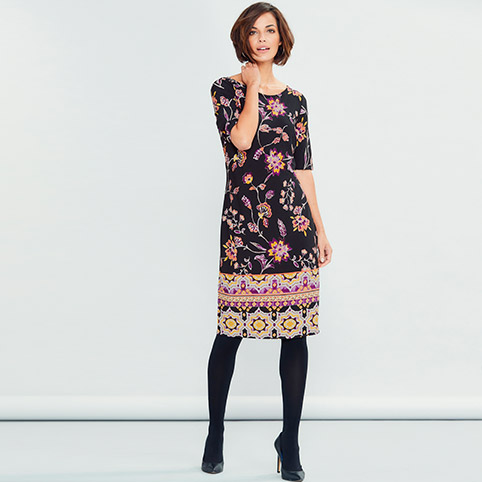 The TUNIC dress
This everyday jersey tunic dress is adorned with an on-trend boho inspired print. If you're looking to create the illusion of shape but don't want a figure-hugging fit, a tunic design is the option for you! This dress grazes the body without drawing attention to the area, which makes it perfect for those who are stomach conscious. Complete with a 3/4 sleeves, the dress can be dressed up with accessories and heels for an evening dinner, or dressed down with a raincoat and flats for a casual and comfortable look. This tunic is flattering and versatile for any occasion.
The FIT & FLARE dress
If you want to enhance your figure and emphasise your waist, the fit and flare dress is the perfect option for you. This flattering design cinches in the waistline to create the appearance of a smaller silhouette. With the hem sitting just below the knees, it's the ideal length to take you into the colder months. Easily teamed with tights or bare legs and zipped at the back for ease. The vibrant blue shade is a perfect way to incorporate colour into your winter wardrobe!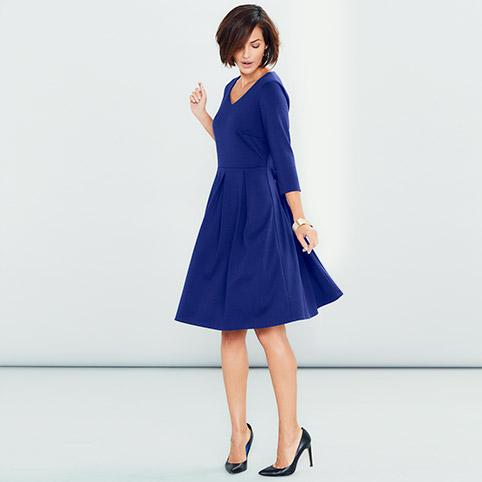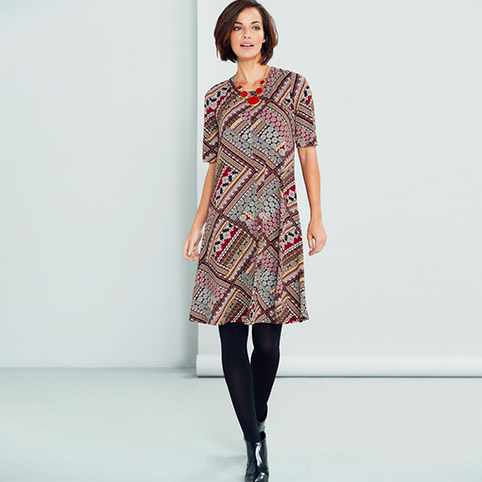 The SWING dress
Balance out your silhouette with our Patchwork Swing Dress. This style is designed to be loose fitting, so wearing it will feel unconfined and extremely comfortable. It's perfect for skimming over those areas you want to hide and the flattering half length sleeves makes it perfect for colder winter days too. With a beautiful patchwork print, this design will take you from autumn into winter and right through to spring.