As we approach February 14th, Mark Heyes is back selecting his recommendations for the perfect Valentines outfit! Although many of us don't make Valentines plans, that doesn't mean we should avoid the occasion at all costs; this Valentines we're encouraging you to love yourself and take some time to celebrate you and all the wonderful things you are capable of!
Mark agrees that every woman should treat herself at the start of a new season, so today he's exploring our new Santiago Siren collection, full of figure flattering dresses and stunning separates with oversized poppies and playful polka-dots that will serve you this Valentine's day, right through to next year… There's never been a better time to treat yourself!
Perfect in Poppy Print
Poppy prints have been a huge catwalk trend in recent months and this dress is perfect for any formal occasion! The elegant shape is complete with a fitted bodice and pleated skirt to create the beautiful fit & flare shape!
"What a fabulous floral print dress, but this time the base-colour is black! Combine that with its stunning nipped in waist and you've got yourself one SERIOUSLY FLATTERING frock!"
- Mark Heyes
The black base colour of this print will mean this dress is a true wardrobe worker all year round! Pull this number out in spring, summer, autumn and winter, and watch the compliments come flooding in all year round!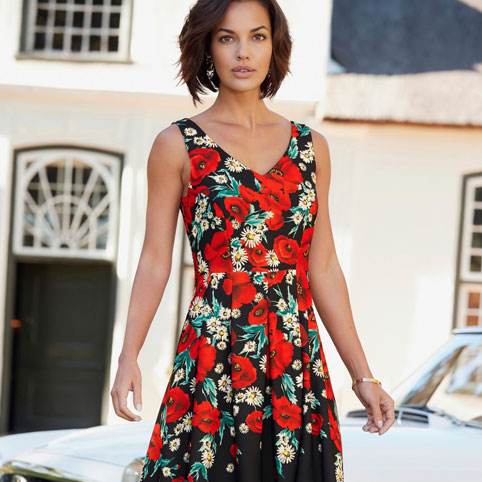 Pretty Polka-Dots
If there's one 50's inspired trend that will never go out of a fashion, it's a classic black and white polka dot dress. With mid length sleeves and a tie bow waist, this pretty dress has all the right details to create that look of effortless style.
"I just love a polka-dot and this easy to wear dress is not only stylish and fashionable but also INCREDIBLY COMFY as well."
- Mark Heyes
We completely agree with Mark! When shopping for occasionwear, comfort is extremely important! Big events, such as weddings are usually a full day of celebrations, so it's essential to make sure we're prepared for the occasion.
The Trouser Top Combo
If you're not a dress person, don't worry – there are still plenty of options for you this Valentines. This boldly printed Double Layer Blouse is the easiest way to make a statement in spring…
"This stunning poppy print top will instantly bring a smile to everybody's face; it's the perfect piece for an extra special occasion. For a more dressed down look try teaming it with a
denim jacket
for a summer soiree"
- Mark Heyes
Switch between formal and casual by simply teaming this top with a pair of smart black trousers for a tailored formal look. Then when you're feeling casual, a pair of jeans and throw-on cardigan makes an easy go-to outfit.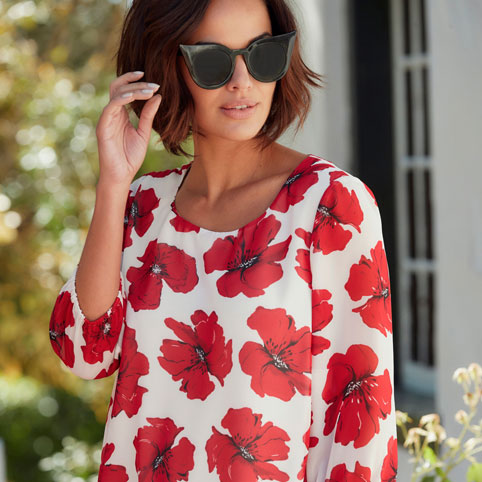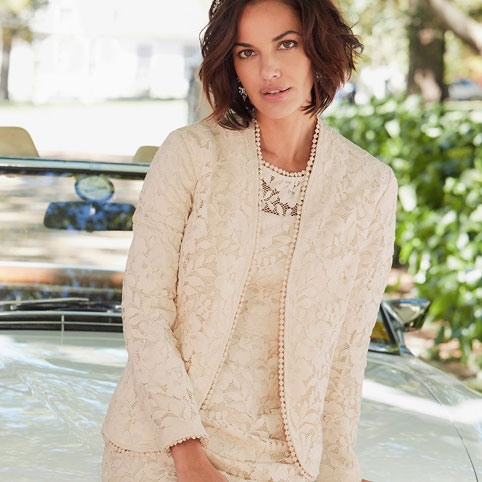 Lovely Lace
A matching dress and jacket is the ultimate outfit for a formal occasion. Available in champagne or navy, our Lace dress and Lace jacket are both cut to flatter and define your silhouette.
"If you're off to the races or a wedding over the next few months then grab this dress before it flies off the shelves. It's CUT TO PERFECTION and will accentuate your waist beautifully. And if you are investing in the dress then it would be rude not to get the matching jacket as well! Even better; the jacket looks spot on with other dresses, a pencil skirt or even jeans too."
- Mark Heyes