One in two people will get cancer at some point in their lifetime, so it's time to come together and help change lives with every slice. From a small gathering in a local home or community centre that raises £25, to larger get togethers in offices or shop chains across the country raising £1,000s, every single Coffee Morning is important and Macmillan is encouraging people to find their nearest event to get involved in. Below we're sharing a Macmillan recipe that you can use to impress your friends, colleagues and community members. Keep reading to find out how to get involved…
How to make: Rhubarb & Rose Friands
Preparation time 15 minutes
Cooking time 35 minutes
Serves: 12
Friand tray tin (8cm each)
✽ 120g rhubarb
✽ 20g golden caster sugar
✽ 160 g butter
✽ 100 g plain flour
✽ 250 g icing sugar
✽ 125 g ground almonds
✽ 6 egg whites
✽ 6ml vanilla extract
✽ 10 ml rose water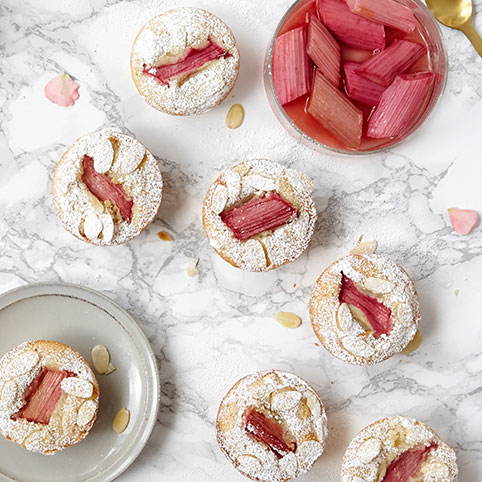 Method
1. Preheat the oven to 180°C
2. Slice the rhubarb on a diagonal to 2cm pieces, sprinkle with the caster sugar. Roast for 15minutes. For the batter first melt the butter in a small saucepan, allow to cool to use in the recipe.
3. Grease the friand tin with a little of the melted butter.
4. Sift the flour and icing sugar into a bowl then stir through the ground almonds. Separate the eggs and retain the egg whites into another large bowl and whisk until they are white and frothy.
5. Gently mix the frothy egg whites into the bowl of dry ingredients. Add the melted butter, vanilla extract, and rose water, stir to combine.
6. Fill the friand tin until each mould is ⅔ full. Then place a piece of the roasted rhubarb on top and gently press into the batter.
7. Bake the friands in the oven for 15 -20 mins minutes, or until they are lightly golden and a skewer inserted in the middle comes out clean.
8. Let the friands cool in the pan for about 5 minutes before removing them to a wire rack to cool completely.
9. Serve the friands warm or cold with a dusting of icing sugar.
It's that simple! And it you're wondering what to wear, what better occasion to fashion one of our Bonmarché Macmillan charity T-shirts. For every T-shirt sold we donate 10% + VAT to Macmillan.
Macmillan Cancer Support's World's Biggest Coffee Morning is taking place on Friday 29 September 2017. To find an event near you to get involved in, visit www.macmillan.org.uk/coffee or head to your local Bonmarché store for a nibble and a natter!