As the weather begins to warm up, we're looking for any excuse to sit outside and take advantage of the great outdoors. Spending time with loved ones and indulging in delicious foods are perfect reasons to attend, or even host a summer garden party! Can you picture anything more relaxing than sitting in the heat amongst a blazing barbeque… ahhh summer!
Below you'll find our selection of the perfect outfits to carry you through your summer invitations in style… It doesn't have to be a summer garden party; these styles will look fabulous throughout your summer weddings, days at the races, or summer soirees! …We can't wait to RSVP!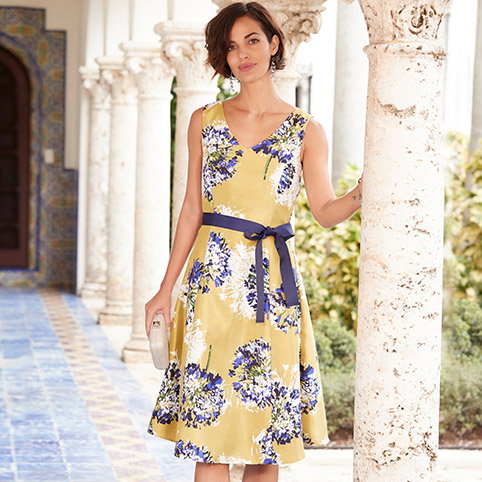 CHIC CHARTREUSE
Ideal for the grandstands, this mid-length dress is perfect for meeting the smart casual dress code such as Ascot's 'below-the-knee' requirements. For this year's summer party dress, take inspiration from the wild outdoors with this graphic allium print dress. The floral pattern makes it perfect for a special occasion such as a garden party, allowing you to look in-tune with the gorgeous greenery surroundings. In an elegant shape, the fit and flare design brings a contemporary twist to the modern prom dress fit.
Plus you can easily throw on a jacket on if you need an extra layer or want to cover up your arms. Our blue short jacket is the perfect summer cover up to bring out the bold cobalt colours in this chartreuse frock.
MODERN MINIMALIST
Not all garden parties are formal occasions. If you're hosting something a little more casual, a nice top and jeans combination should be your go-to outfit choice. This elegant top is the definition of 'smart casual' due to its chic design and asymmetric hem. It's the unique colour that brings a bold statement to this minimalist style. Comfort is an important factor during parties and special occasions, as these are the days we consume more food and drink than usual! Our white straight leg jeans are the perfect relaxed fit to keep you comfy all day without having to worry about your waist band. Team with silver accessories if you're looking to add a little extra touch of glamour to your look!.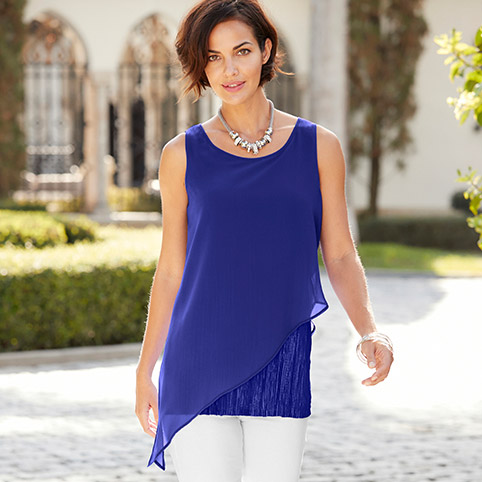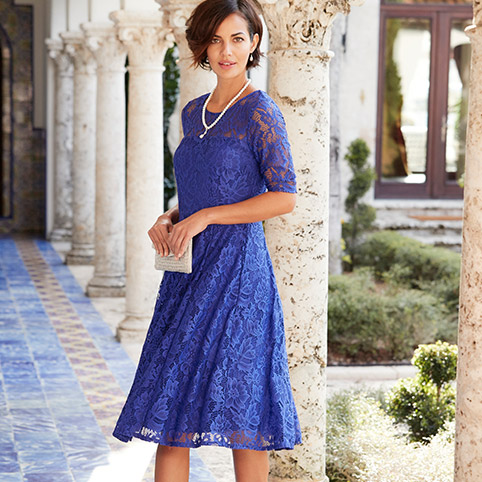 LUXURIOUS LACE
For the trend-driven fashionistas, lace is your go-to material for a summer dress this season. Sometimes all you need is a touch of lace to create a luxurious look. With beautiful detailing and a double layer skirt, this elegant design will be sure to bring sophistication to the party. Plus, with sheer half sleeves, this style is the easiest way to flash a touch of flesh whilst still covering your upper arms. In a vibrant royal blue shade, this dress will be sure to be the burst of colour amongst all of the LBD's this season.
FLOATY FLORALS
A trouser and top combination can be the ideal option to choose if you're different sizes on your top and bottom half. Sometimes, all you need is an elegant top to make a show-stopping statement! This double layer blouse is the essence of summer with its allium print and vibrant colours. The fit is flattering yet comfortable, plus it comes with a gorgeous necklace so the hard task of accessorising is done for you! Team with a simple, but sophisticated pair of white jeans to create an easy-to-wear on-trend summer outfit.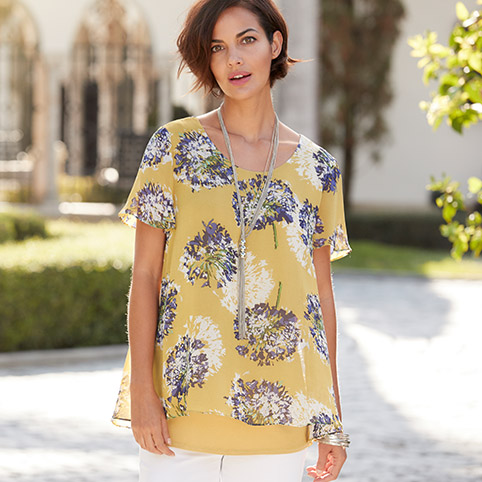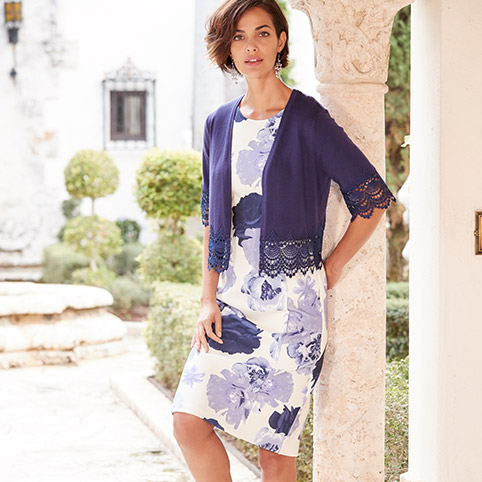 EFFORTLESS ELEGANCE
When it comes to dressing up, do you head for sleeveless styles or prefer to cover up your arms? If sleeveless is more your cup of tea, our scuba summer dress is the perfect party option. The scuba material is incredibly flattering as the sturdy material works hard to hold everything in place, whilst the stretch still provides all day long comfort. If you prefer to keep your upper arms under wraps with a summer cover up, try styling this dress with our lace trim cardigan, the navy colour matches the floral shades perfectly to create a pulled together coordinated look. This outfit is ideal for summer barbecues or al fresco parties – just dial it up or down with accessories depending on the dress code.
PRETTY POLKA DOTS
Sometimes it's the classic prints that remain our favourites! Pretty polka dots on a navy base give a nod to the fabulous fifties style we all know and love. The double layer waterfall style of this frock allows a loose fit whilst remaining incredibly flattering! Don't forget your accessories when styling up this little number; it's the extra details that can really bring this outfit to life! If you're feeling traditional, add your pearl necklace to create a look of true classic glamour. But if you fancy a modern twist, try styling this dress with a red bag and shoes for an on-trend look. This summer dress will see you through all of your invitations in style!