Here at Bonmarché we love a wardrobe favourite, and linen is no exception.
It's effortlessly chic, keeps you cool, and the natural properties of the fabric mean you don't need to worry about over creasing!
So why, if we love linen so much, do we blend it with other fabrics? Find out below!
What is linen blend?
Linen blend is exactly what it says on the tin, a blend of linen and an alternative man-made fabric such as viscose or polyester.
What are the benefits of blending linen with other fabrics?
Linen has longer fibres than cotton, which makes it slightly thicker and stronger (meaning better longevity!) but, by blending it with a man-made fabric such as polyester or viscose your fabric will be softer to touch and much less prone to creasing.
Will it get softer after washing?
The beauty of linen (and linen blend) is that it gets better after every single wash (no, we're not kidding!), softer and more supple – the more you wear and wash your linen, the more fabulous it looks. Which brings us on nicely to our next point…
How is the best way to wash linen blend?
Wash your linen-blend garments on low temperatures, preferably in lukewarm or cold water with a mild detergent or you can use the handwash setting on your machine.
How do you un-wrinkle linen-blend?
The beauty of a linen-blend garment is that it reduces the natural wrinkling qualities of linen, which means that you should have less wrinkles appearing in your fabric. However, if your garment is extra creased, iron while the fabric is still damp, using a medium-hot iron with the steam setting on. Light/white linens on both sides, darks on the reverse.
How do you style it?
We love a crisp, clean look, which can take you from day to night!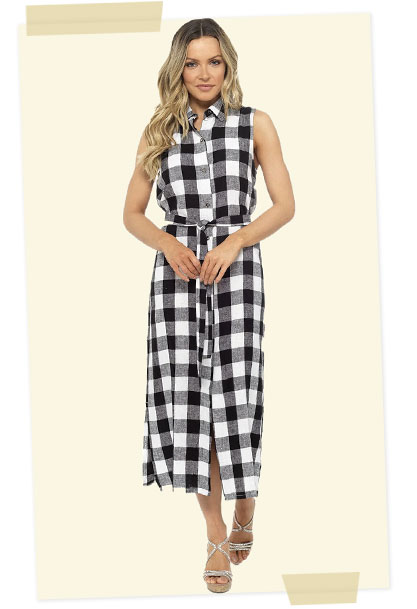 A printed linen-blend dress is something that every woman should have in her wardrobe. They're easy to wear and look fabulous whether you're at a garden party, enjoying your staycation, or at a more formal occasion like a wedding!
Choose a shoe to pick out one of the colours on your dress, or in a contrasting bright colour, to really make your outfit pop!