With only a few weeks left to go until Christmas, many of us are still searching for that special gift – something thoughtful that shows you really care. Homemade edible treats are lovely to receive any time, but particularly at Christmas. Cookery writers Rob and Amber Kirby have been making bespoke foody presents for family and friends for more than 30 years, and are now sharing their tried and tested recipes in Delicious Gifts (Absolute Press, £18.99)
From their luxurious Strawberry, Thyme, Prosecco and Vanilla Jam, to pretty Raspberry Meringue Kisses, and Festive Wreath Crunchies, which can be sprinkled with edible glitter and tied to the Christmas tree, the recipes here are delightful and delicious - the perfect way to show someone you care...
FESTIVE WREATH CRUNCHIES
We love a bit of glitter and these festive wreaths will provide some seasonal glitz. Prepare to get messy and gooey, and work quickly before the mix sets. This idea goes perfectly with the Gingerbread Christmas Shapes as you can tie red ribbon on both and hang them on the Christmas tree – the perfect edible gift for friends and family.
Makes 12-15
75g unsalted butter, at room temperature
200g mini marshmallows
2 tablespoons golden syrup
1 teaspoon green gel colouring
150g cornflakes
50g rice krispies
30g pistachios, chopped
50g red jelly beans, cut in half widthways
1 teaspoon edible green glitter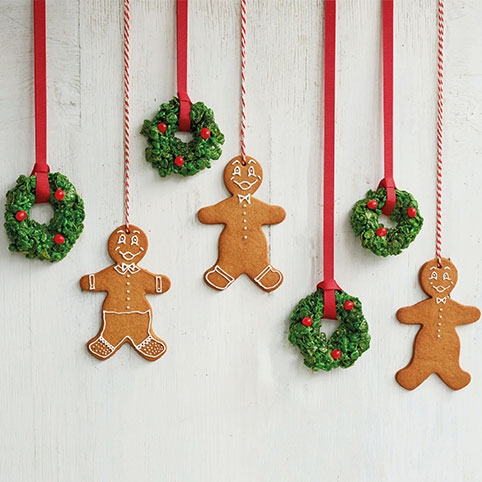 Method
1. Line a baking tray with silicone or baking parchment.
2. Place the butter, marshmallows and golden syrup in a large heatproof bowl set over a pan of boiling water and stir continuously until they have melted together.
3. Remove the bowl from the heat and stir in the green food colouring. Add the cornflakes, rice krispies and pistachios and gently fold together.
4. Spoon the mixture onto the lined tray to create small mounds (about 1 tablespoon of mixture per mound).
5. Before the mixture sets, warm your hands under hot water then create a hole in the middle of each mound to form a wreath. Dot with the red jellybeans to create 'berries' and sprinkle with edible glitter.
6. Once cool, box and present.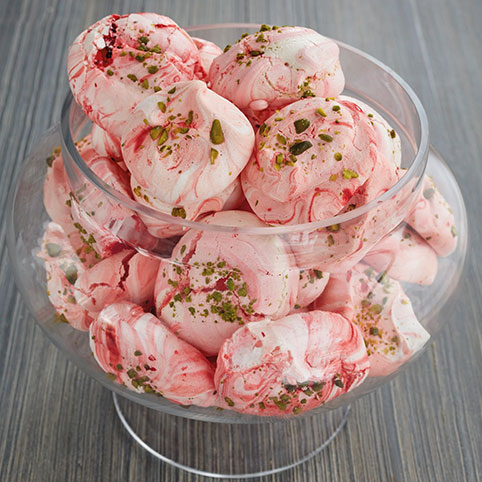 RASPBERRY MERINGUE KISSES
Pucker up for these little beauties! Give to someone you love in a stylish apothecary glass jar.
Makes 30
240g caster sugar, plus extra for dusting
4 egg whites
¼ teaspoon good-quality bright red gel food colour
1 tablespoon seedless raspberry jam
1 tablespoon finely chopped pistachios
Method
1. Preheat the oven to 100°C/80°C fan, 210°F, gas 1/4. Line a baking tray with baking parchment and dust with a little caster sugar.
2. Whisk the egg whites in a food mixer until they form soft peaks. Continue whisking and slowly add half the sugar, making sure it is thoroughly incorporated into the egg whites.
3. Remove the bowl from the mixer and very slowly fold in the rest of the sugar using a large metal spoon. You should end up with a raw meringue that is thick and silky in texture and has a glossy sheen.
4. Add the gel food colour to the raspberry jam and mix together. Using a fork, gently drag the jam mixture through the meringue to marble, but do not over-mix.
5. Using a tablespoon, drop spoonfuls of the meringue onto the lined baking tray, then sprinkle the tops with finely chopped pistachios. Bake in the preheated oven for 1 hour or until the meringues lift easily off the baking parchment. Cool on a wire rack.
STRAWBERRY, THYME, PROSECCO AND VANILLA JAM
This is no ordinary strawberry jam, this is pimped-up strawberry jam! An absolute treat served with Devonshire scones and lashings of clotted cream.
Makes 12-15
800g strawberries, hulled and quartered
1kg jam sugar
2 vanilla pods, split and seeds removed
100ml prosecco
½ teaspoon thyme leaves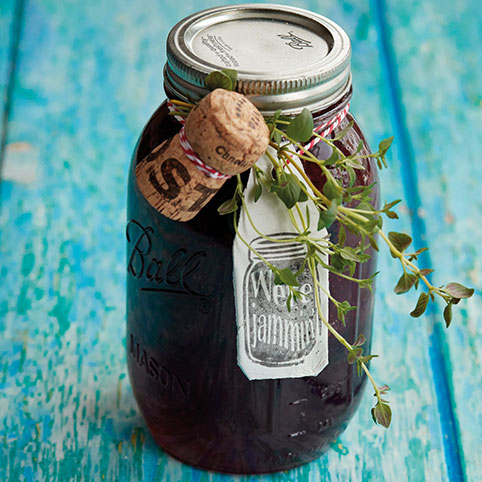 Method
1. Place the strawberries, sugar, vanilla pods and seeds in a large, heavybased pan and stir well. Heat over medium to high heat, stirring occasionally, then just before the mixture starts to boil and the sugar has all dissolved, add the prosecco and bring to the boil. Continue to boil rapidly and stir for 10–15 minutes, then remove any scum with a spoon.
2. To test if the jam is ready, spoon a drop onto a chilled saucer – it should form a slight ripple if you drag the spoon through it. If not, boil for an additional 5 minutes and test again.
3. Discard the vanilla pods and add the thyme leaves. While still hot, pour into sterilised jars, seal tightly and label.