Introducing Dorina! Since launching in 1968, Dorina has become synonymous with high quality, affordable underwear. With unique, in-depth knowledge, and over 48 years to finesse the fit, Dorina has adapted to your needs to provide superior designs for amazing value. While its styles continuously change and update, the fit and quality remains.
Dorina offer a wide range of bras featuring both wired styles for more support and non-wired pieces for extra comfort. As well as a great selection of ladies briefs, including full and hipster shapes, featured in laces, patterns and neutrals. In a range of different shapes and sizes, there's something for everyone in the new collection.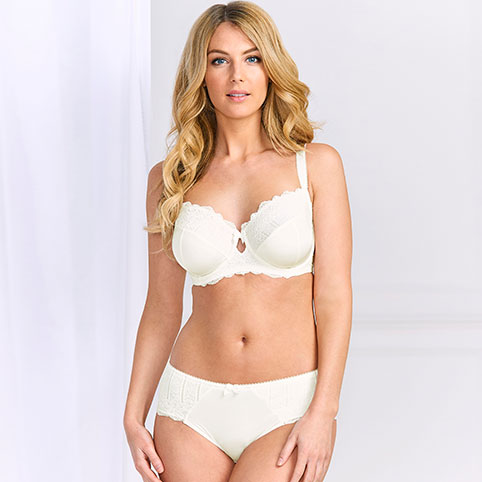 The CELINE
A white bra is a lingerie drawer essential! But just because its white doesn't mean it has to be boring. This elegant wire bra from Dorina's Curve range is the perfect balance between pretty and practical. Featuring a microfiber cup, this design sculpts to your shape creating the most flattering fit for your bust. The delicate striped floral lace gives a beautifully soft look that will make you feel feminine and comfortable all day. Plus, the design features an added scalloped edge along the cup and band to provide extra coverage. Match your briefs to your bra with these comfortable hipsters that sit on the waist to provide full bottom support.
The ADELE
It's the first thing we put on in the morning so it's essential our lingerie makes us feel fabulous and ready for the day ahead. From Dorina's Curves range for bigger sizes, this wire bra is one of our favourites. In black with white pin stripes and a generous lace overlay on the cup, this glamorous style is not only extremely comfortable but also easy-to-wear. Finished with a keyhole and bow with diamanté detail, it's the small details in this design that gives it a look of luxury without the price tag. With a matching black and white pin stripe bottoms, these briefs come in either a classic brief or hipster shape.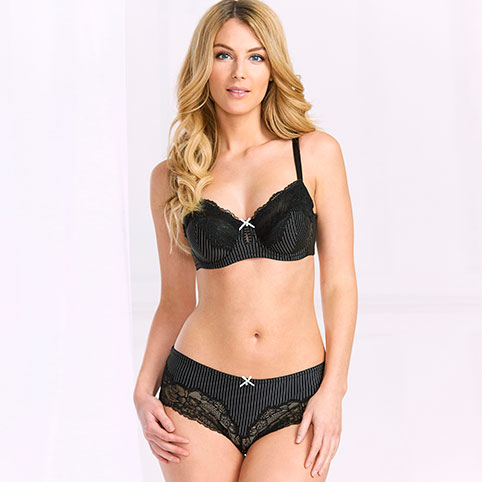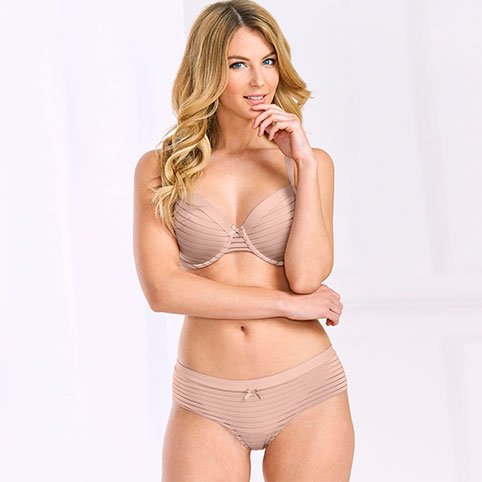 The LOUISE
When it comes to an underwire bra, we need something that provides supports without digging in. Dorina's T-Shirt bras are designed with you in mind, offering comfort and ease all day long. Featuring modern burnt-out stripes in a delicate blush colour, this intricate detail adds an extra eye-catching aspect to this simple shape. And because we're all looking for great value – this bra comes in a two-pack along with a solid ivory t-shirt bra in the same shape. Team with our easy-to-wear hipster briefs to create a pretty combo in either colour.
The CHLOE
Update your lingerie collection with Dorina's pack of two bras and matching briefs – this set is a favourite of ours, and a Dorina best seller! The full cup bras are designed to fully cover the breast and provide great support, ideal all day long comfort, whilst the underwire provides you gentle support throughout the day. The ornate sheer black lace is layered over a neutral base to give a beautifully soft and feminine look. The second bra comes in a plain easy-to-wear blush shade, making it the perfect everyday t-shirt bra.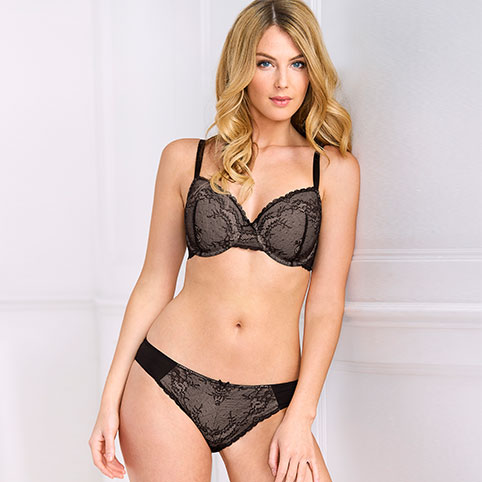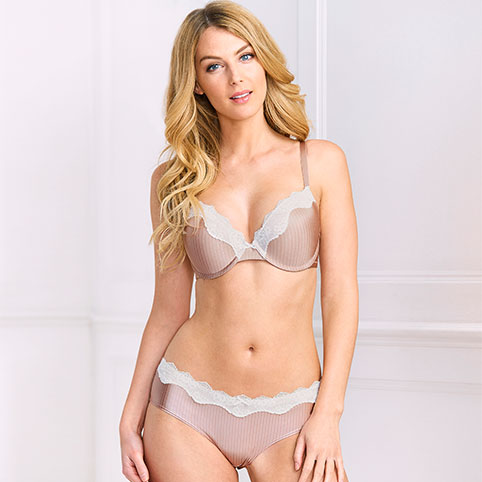 The BIANCA
Sometimes we could all use a little lift, that's why this subtle push up bra is essential for enhancing the cleavage to give a rounded and fuller shape. Designed with ultimate comfort in mind, the moulded cups provide a smooth surface to sit beneath all of your favourite tops. In a feminine blush colour amongst an on-trend pin stripe detail, this two-pack also comes with an ivory lace trim bra.
There's no easier way to feel coordinated than with a matching lingerie set; the hipster briefs are designed with a matching ivory lace trim around the waist band and a small satin bow to complete the look.