Introducing Dorina! Since launch, Dorina have offered a wide range of bras featuring both wired styles, for more support, and non-wired pieces, for extra comfort. In addition, there is a great selection of ladies briefs, including full and hipster shapes, featured in laces, patterns and neutrals. In a range of different shapes and sizes, there's something for everyone in the new collection.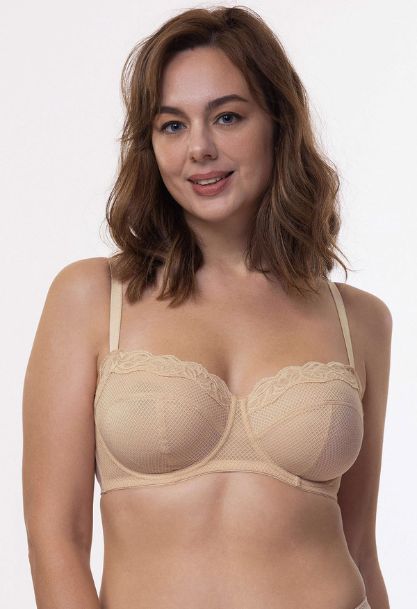 A non padded day bra
A full cup bra with convertible straps and wire in both natural and black is a lingerie drawer essential! Nude offers versatility and a seamless look under any outfit, while black exudes a touch of elegance. This elegant wire bra from Dorina's Curve range is the perfect balance between pretty and practical. With no padding, this bra offers support without emphasising the bust. . The delicate floral lace detailing along the edge of the cup with a mesh cup gives a beautifully soft look that will make you feel feminine and comfortable all day. Match your briefs to your bra with a pair of comfortable midi briefs that sit on the waist to provide full bottom support.
The perfect post-op bra
It's the first thing we put on in the morning, so it's essential our lingerie makes us feel fabulous and ready for the day ahead. From Dorina's Curves range for bigger sizes, this lacy, non-wired bra is one of our favourites. In black and natural colours, with delicate floral lace , this glamorous style is not only extremely comfortable and supportive but also easy-to-wear. With no wire or padding, this is the perfect post surgery bra - coupled with the lacy finish, you'll look good while feeling comfortable!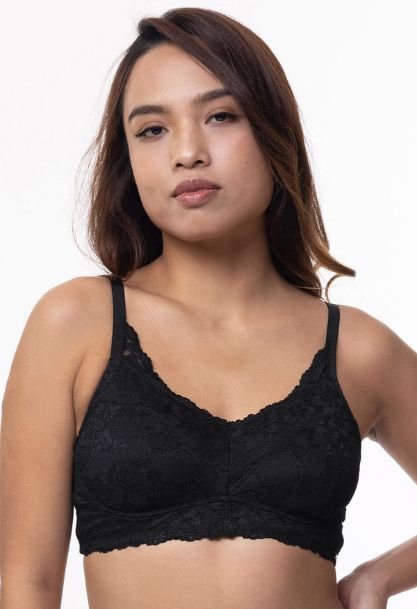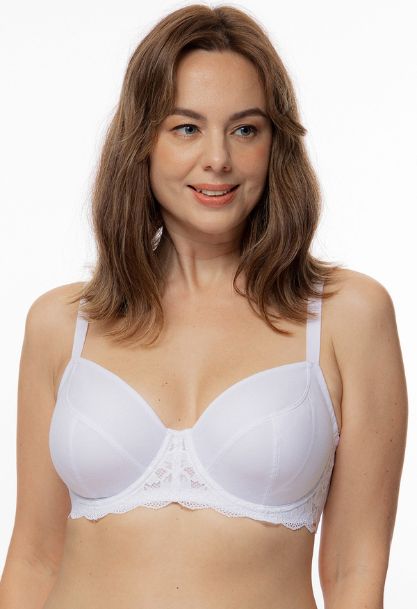 Minimise that bust!
Sometimes we're looking to minimise the size of the bust without compromising on support. Introducing this lacy, non-padded, wired bra - the perfect solution for a streamlined silhouette. Designed to provide optimal support and minimise the appearance of your bust, this bra offers comfort and ease all day long. Team this comfy bra with a pair of DORINA shaping shorts to create the figure you've always dreamed of - with minimised bust size and unparalleled tummy control. Whether worn under work attire or casual wear, this combo is a reliable choice for a comfort that makes you feel fabulous.
A t-shirt bra for maximum comfort
A necessity in every woman's wardrobe is a comfortable t-shirt bra. Designed to blend fashion with function, this t-shirt bra from DORINA offers a seamless look under any outfit, making it a versatile addition to your lingerie collection. The lightly padded cups provide a natural and flattering shape, ensuring a smooth silhouette while the full cup is designed to fully cover the breast and provide great support. Crafted with soft, breathable materials and a striped design, the bra is one of our favourites!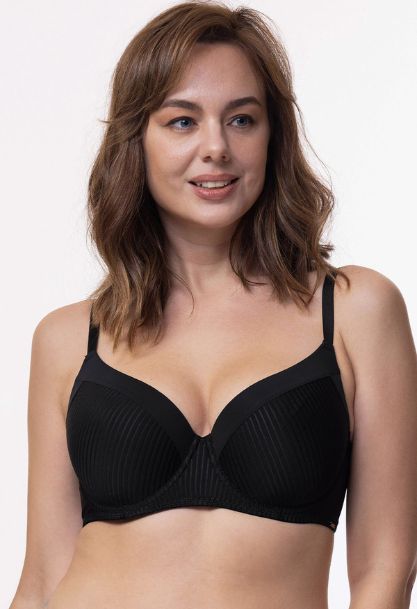 Shape your silhouette
Sculpt and define your silhouette with this shaping torso, offering medium control and available in both nude and black. Designed with ultimate comfort in mind, the medium control ensures a firm yet comfortable hold, allowing you to move with ease throughout the day while feeling confident in your figure. Whether you're stepping into that favourite dress or elevating your everyday look, this shaping torso will be your go-to companion for a sleek appearance that leaves you feeling self assured all day long.