STYLE AT EVERY AGE…
There's no age restriction when it comes to looking good, as Bonmarché Style Consultant Mark Heyes tells us! Three Bon readers admit they've become stuck in a fashion rut and turn to Bonmarché's Style Consultant Mark Heyes for a mood-boosting makeover.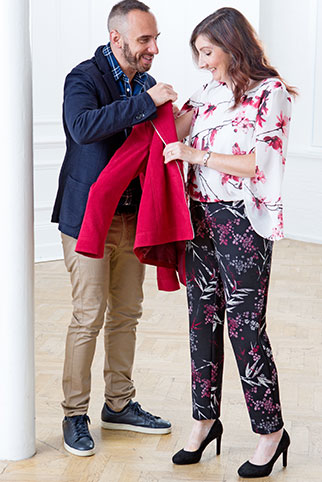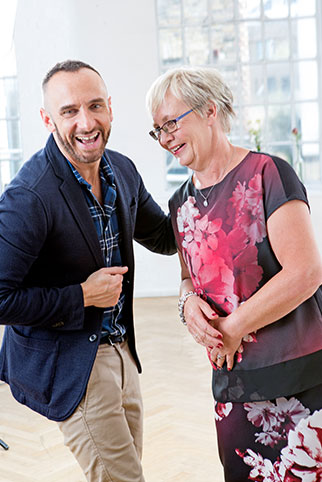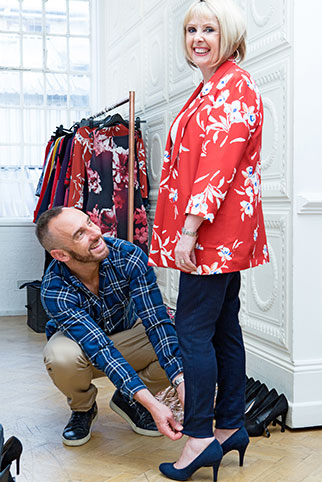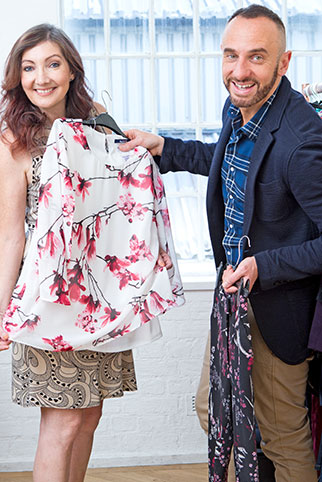 JOANNA HUNTLEY, 53, BROXBOURNE
"I've been a counsellor for 15 years; it's a serious job, so my 'uniform' tends to be lots of plain black trousers. When Mark showed me this outfit, I thought I could never pull it off. Pink is a colour I've always loved but never worn – and even if I had picked the top, I would have teamed it with my plain black trousers! Mark has shown how you can make these clashing prints work. It's a bold, brave look, and I feel amazing."
- Joanna
"While this isn't an outfit Jo would have put together, you could tell she felt great in it from the moment she put it on. The colours all coordinate beautifully, so you can clash the prints and yet it still works. This top is fantastic, too – the floaty sleeves mean you can flash a little bit of flesh but you're covering any areas of concern, while the double layer skims over any lumps and bumps. It's these little details that make you feel good."
- Mark Heyes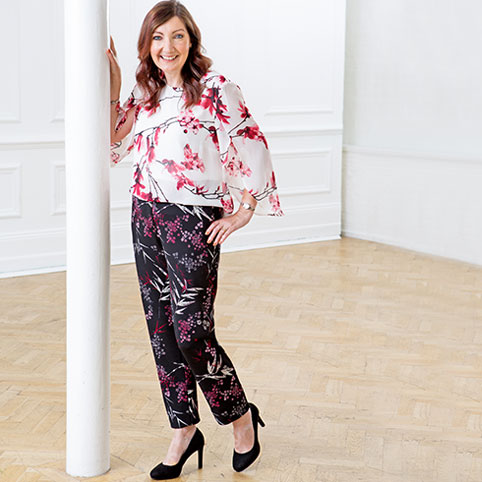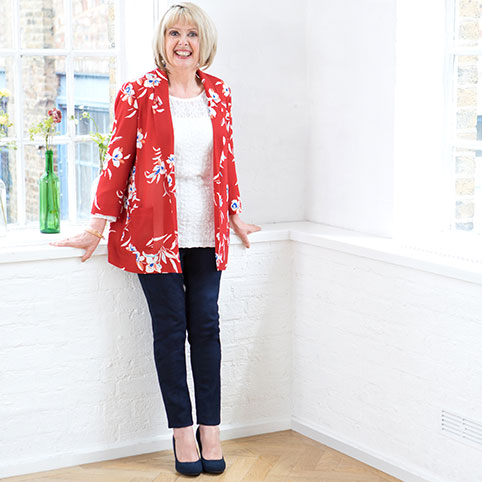 DENISE NEEVES, 56, BOURNEMOUTH
"Entering my fifties was a turning point for me. Sick of hiding in baggy jumpers, I lost three-and-a-half stone and grew my hair into the bob I'd always wanted – but I still struggle with knowing what would suit me. I tend to play it safe with dresses rather than trying to coordinate separates. This look is exactly what I need for drinks with the girls. I'd never have tried such a bold jacket, but I can see the colour suits my skin tone and it gives the outfit a smart edge. Mark has made me realise that I can be more daring."
- Denise
"Denise is already a very glamorous lady, so I thought I'd mix it up a bit and put her in these Julie jeggings. The technology in Bonmarché denim is incredible – its stretch fabric gives confidence because it holds you in while feeling comfortable. Smart-casual seems to be one of the last looks you learn to accomplish, but fantastic jeans, a lace top and statement jacket are pieces you'll come back to time and time again."
- Mark Heyes
SUE NEWCOMBE, 62, LEICESTERSHIRE
"When I bump into people I haven't seen for a while and they don't recognise me, it makes me realise just how much I've changed. Losing five-and-a-half stone has given me a different shape to dress, and I still find it hard to believe that I'm no longer my old size. I love the dress Mark picked today. Styling a matching T-shirt over the top is something I'd never have thought of, but it made me feel comfortable. I can't wait to add it to my dress collection – something I never thought I'd say!"
- Sue
"Five-and-a-half stone is life-changing stuff. For Sue, it's about learning to dress this new shape confidently and feeling brave enough to show off her figure. This dress and matching top do exactly that. If you're not used to figure-hugging styles, I'd recommend this scuba fabric – it helps the wearer feel secure, and layering with a top gives you a different feel-good option."
- Mark Heyes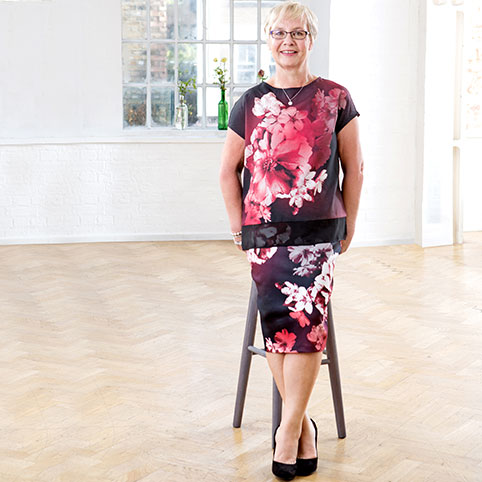 If you'd like to be next, email your name, age and a recent photo to magazine.editor@bonmarche.co.uk with the subject 'makeover'. You could appear in the next issue of
Bon Magazine.