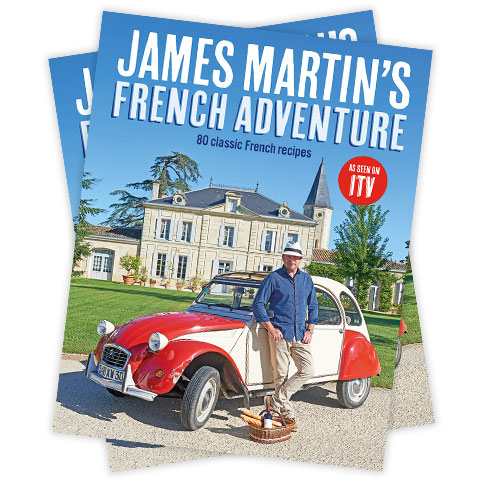 Oh là là! We don't know about you but we can't stop thinking about all things FOOD! Join us on a culinary journey with these deliciously summery, light recipes taken from the TV chef's new book, James Martin's French Adventure. We'll be sharing a few snippets of James' book on our blog over the next few weeks so keep an eye out for more delicious recipes! Today we're starting with an amazing idea for a summer brunch meal..
Lyonnaise Egg & Bacon Salad
"This was on the menu at a little place in Lyon, where the TV crew and I stopped off for lunch."
Serves: 2
FOR THE SALAD:
✽ 1 tbsp olive oil
✽ 4 slices of smoked bacon, cut into 5cm (2in) pieces
✽ 2 thick slices of bread, torn into cubes
✽ 2 eggs
✽ Splash of white wine vinegar
✽ 2 handfuls of frisée leaves
✽ 2 handfuls of lamb's lettuce
✽ 2 chicory heads, sliced
✽ Small bunch of chervil
FOR THE DRESSING:
✽ 2 tsp Dijon mustard
✽ 25ml (1fl oz) white wine vinegar
✽ 100ml (3fl oz) olive oil
✽ 1/2 shallot, finely diced
✽ 1/4 garlic clove, crushed.
Method
1. For the salad, heat the oil in a non-stick frying pan and fry the bacon until crispy. Add the bread and fry, stirring, to make golden croûtons. Drain on kitchen paper.
2. Meanwhile, poach the eggs. Bring a large pan of water to the boil and add 1 tsp of salt and the vinegar. Crack 1 egg into a cup. Using a whisk, swirl the water and drop the egg into the middle. Lower the heat and simmer for 2–3 minutes. Remove the egg with a slotted spoon and plunge in cold water. Repeat with the other egg.
3. Whisk the dressing ingredients together in a large bowl and season. Add the frisée, lamb's lettuce, chicory and chervil, and toss to combine.
4. Serve the salad in two bowls, topped with the bacon and croûtons. Heat the eggs in boiling water for 30 seconds, drain and place on top of the salad.