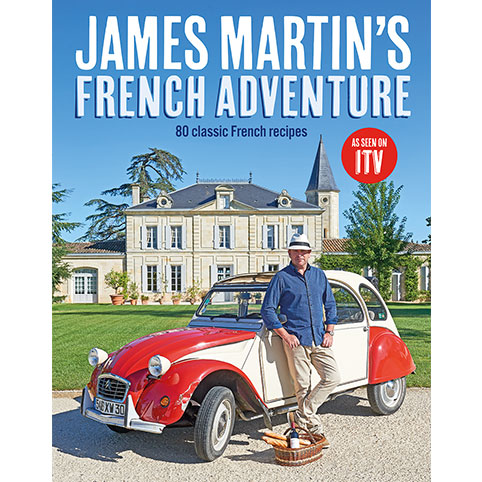 Oh là là! Still searching for something delicious to fill that whole in your stomach? Join us on a culinary journey with these deliciously light recipes taken from the TV chef's new book, James Martin's French Adventure. Today we're making Griddled Lamb Cutlets With Pine-Nut & Pomegranate Tabbouleh. This fresh, vibrant tabbouleh works best with lamb, but it is also great with other meats and fish.
Serves: 4
FOR THE TABBOULEH
✽ 175g (6oz) bulgur wheat
✽ 500ml (17fl oz) chicken stock, warmed
✽ 2 dried chipotle chillies
✽ 1 tsp each of caraway, cumin and coriander seeds
✽ 2 garlic cloves, roughly chopped
✽ 2 shallots, roughly chopped
✽ 2 red chillies, deseeded and roughly chopped
✽ 2 tbsp olive oil
✽ 200g (7oz) pine nuts, toasted
✽ 1 pomegranate, seeds only
✽ Small bunch each of mint and coriander, roughly chopped
✽ Juice and zest of 1 lemon
FOR THE LAMB
✽ 8 French-trimmed lamb cutlets
✽ Small bunch of rosemary, tied with string
✽ 50ml (2fl oz) olive oil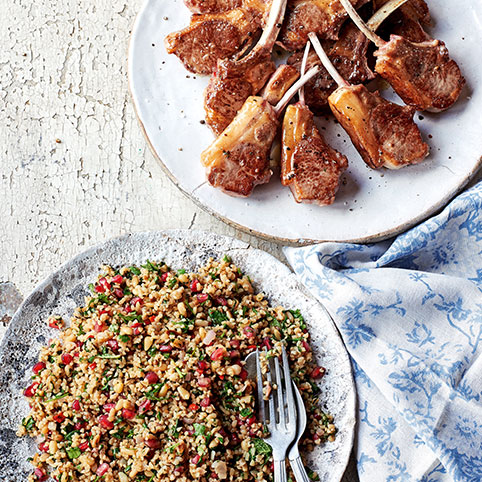 1. Heat a large non-stick frying pan over a medium heat, add 1 tbsp of the oil and fry the mullet fillets, skin-side down, for 2 minutes. Flip them over and immediately take the pan off the heat, but leave the fish to cook through in the pan.
2. Meanwhile, soak the dried chillies in hot water for 5 minutes until soft, then drain and put them in a food processor.
3. Heat a small frying pan and gently heat the caraway, cumin and coriander seeds until aromatic. Add to the food processor, along with the garlic, shallots, fresh chillies and olive oil. Blend into a smooth paste.
4. Stir 2 tbsp of the spice paste into the bulgur (the remaining paste can be chilled to use another day). Stir through the toasted pine nuts, pomegranate seeds, mint, coriander and the lemon zest and juice, and season.
5. For the lamb cutlets, heat a large griddle pan over a high heat. Dip the rosemary bundle in olive oil and use it to brush the cutlets.
6. Cook the chops – in batches, if necessary – for 2 minutes each side for rare, continuing to brush them with the rosemary and oil. (For medium, cook them for an extra minute each side, and for well done, an extra 2 minutes.) Serve with the tabbouleh.