FIND RELIEF FROM THE SYMPTOMS WITH EASY-TO-FOLLOW LIFESTYLE CHANGES AND THESE EXPERT TIPS.
Between the ages of 45 and 55, most women will suffer symptoms of the menopause, whether its hot flushes, weight gain, depression, loss of libido or difficulty sleeping. Each experience is different as symptoms can appear or disappear suddenly and vary in severity and duration.
A study found that although the average woman has symptoms for around seven years, some experience them for more than 11, which is far longer than originally thought*. While hormone treatment can be prescribed, assessing your lifestyle and making some changes can be an effective first step in managing the process.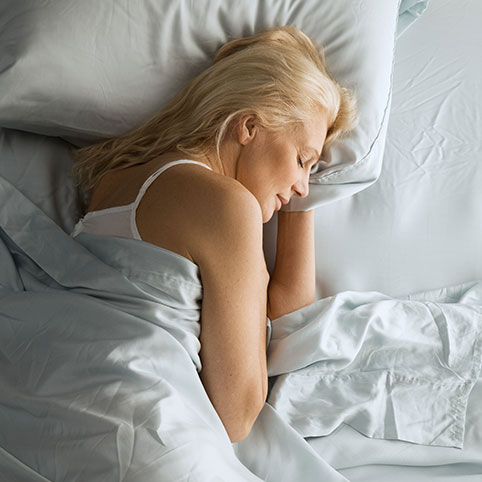 FIND A SLEEP ROUTINE
Getting a good night's rest can be difficult as ovaries decrease their production of oestrogen and progesterone, a sleep-promoting hormone, and hot flushes prove disruptive. Establishing a steady routine of bedtimes and wake-up times can help. Pay attention to your sleeping environment, too. Dark, quiet and cool conditions are ideal –recreate them with earplugs, eye masks and fans. Herbal sleep aids such as valerian may help – ask your GP for advice.
CUT CAFFEINE
Caffeine found in tea, coffee and some fizzy drinks can interfere with sleep, trigger headaches, prevent calcium absorption and aggravate hot flushes. It also increases production of the stress hormone cortisol, which is why we feel a temporary energy boost. Try switching to decaf, herbal teas or fresh vegetable juices.
SNACK ON WALNUTS
"Walnuts are high in antioxidants, thanks to their vitamin E and manganese content," says Sophie Manolas, clinical nutritionist and author of The Essential Edible Pharmacy (Exisle Publishing, £16.99). "Vitamin E may help to reduce common menopause symptoms such as hot flushes and itchy skin, while the biotin and omega-3 content promotes thick, glossy hair. Walnuts also help with heart and brain health."
TRY ST JOHN'S WORT
The Royal College of Obstetricians & Gynaecologists report that St John's wort has been effective in relieving mild to moderate depression in both peri- and premenopausal women. Speak to your GP before taking it, as it can interfere with other medications.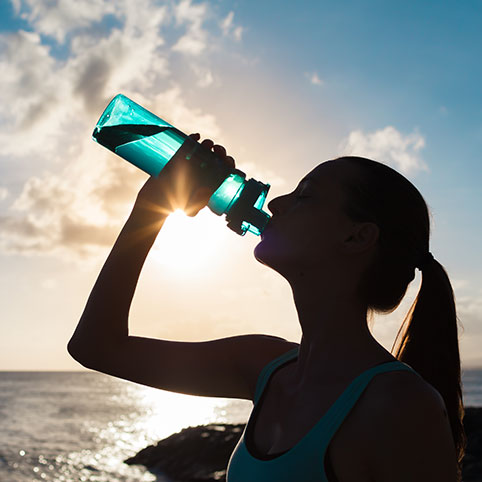 AVOID OVEREATING
"We only need around 65 per cent of the calories in our fifties that we needed in our twenties," explains Christa D'Souza, who wrote The Hot Topic (Short Books, £8.99). "Overeating isn't just bad for the waistline – it may also make us sad. A diet high in refined carbohydrates, such as white rice, white bread and processed cereals, might lead to depression in postmenopausal women."
BEAT THE HEAT
Hot flushes can be particularly difficult in summer. Dressing in layers can help, as can carrying a fan or facial mist such as Boots Hot Weather Refreshing Spray For Sensitive Skin, £4.19. Also, be sure to stay hydrated to replace lost fluids.
INCREASE AEROBIC EXERCISE
Numerous studies have found that exercise can help to relieve menopausal symptoms, as it can reduce stress and help to maintain strength, muscle and bone mass. The Royal College of Obstetricians & Gynaecologists advises: "The best activity appears to be regular sustained aerobic exercise, such as swimming or running."
GET SOME SUPPORT
"As you reach the menopause, remember that you are not alone and there are plenty of people who will understand what you're going through," advises Anna Barnes, author of 50 Tips To Help You Through The Menopause (Summersdale, £5.99). She suggests visiting internet forums to meet like-minded women who are willing to lend an ear, share experiences and offer support.