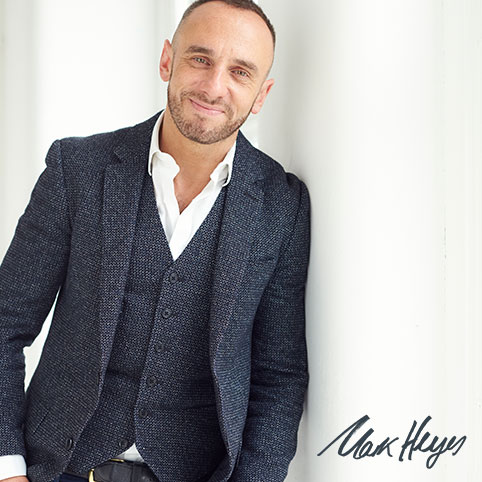 It's soon to be that time of the year where our wardrobes need to transition from December in to January. We're done with all of the sparkly tops, we're hanging away our partywear dresses and we're relieved to say goodbye to the novelty knits for another year! But after all of those items are removed, our wardrobes can feel a little bare… That's why it's the perfect time for a wardrobe refresh. Topping up those empty hangers with a few wardrobe staples is the easiest way to step into the New Year in style…
The Classic Trousers
There's nothing more stylish than a pair of smart trousers, Mark tells us why…
"These trousers are INCREDIBLY FLATTERING on every body shape and a perfect wardrobe basic. Plus I've been reliably informed by Bonmarché ladies; they're as comfy as can be due to the elastic waistband and luxurious feeling fabric."
- Mark Heyes
Mark's not wrong… with a flattering straight leg cut, featuring a central seam that elongates the legs, these trousers are sure to become the most reached for item in your wardrobe! Team with a blouse and blazer for a smart tailored look, or dress down with a casual cowl neck jumper for an equally stylish daytime outfit.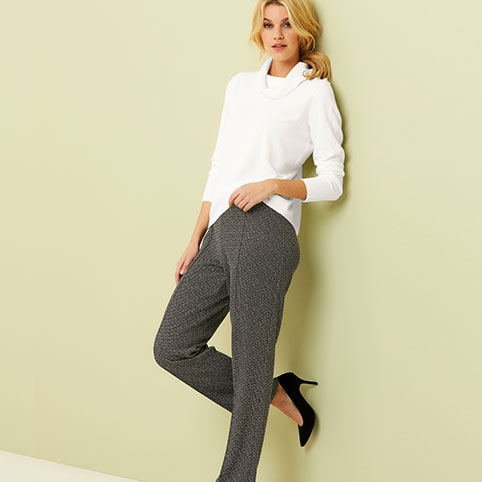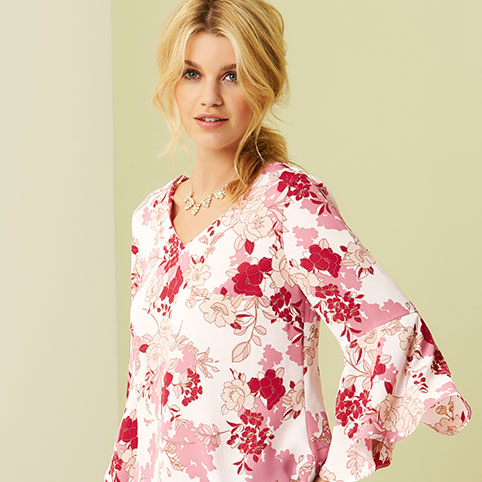 The Statement Sleeve Top
Update your wardrobe this season with this pretty floral print top. Featuring a V-Neck design with fluted sleeves and a cross back detail. Here's what Mark has to say…
"A statement bell sleeve is a MUST-HAVE look for the coming season, as is the red and pink colour combination. Not forgetting the perfect cut of this top, which will be sure to flatter ladies of every shape and size"
- Mark Heyes
Wear with smart black trousers for a smart formal look. Or dress down with a pair of Julie Jeggings or a skirt for a more everyday outfit.
The 'All-Occasions' Dress
Every woman's wardrobe needs a staple dress that will take them anywhere – from spring weddings to evening dinner parties. This dress is suitable for so many occasions...
"The fabric on this fabulous frock is incredibly forgiving; super stretchy, so comfortable and gives you the PERFECT SILHOUETTE! Top tip; pick out the pink in the flowers and style it up with this season's kitten heel and an elegant clutch bag."
- Mark Heyes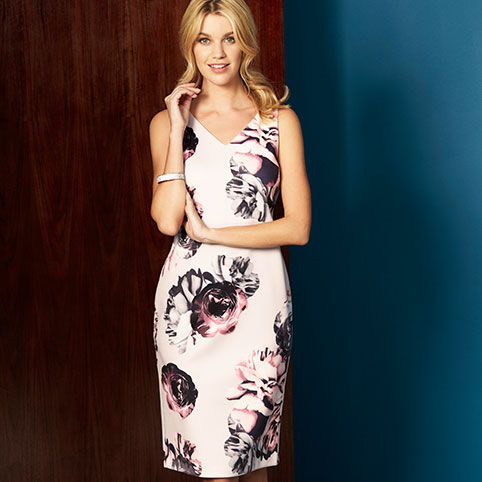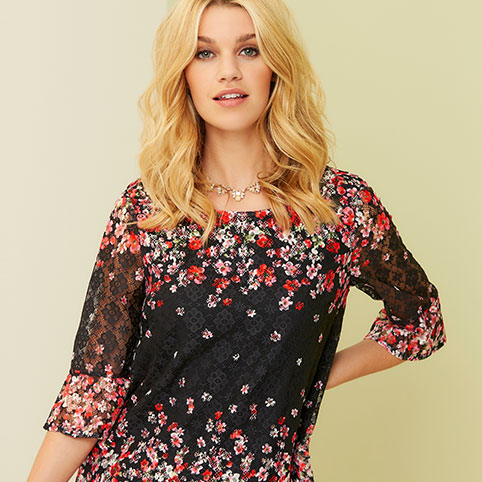 The Pretty Print
Who says floral prints are for summer? Just because the weather in winter is cold and grey, it doesn't mean your wardrobe has to be! A dark base colour can really make vibrant pink floral prints pop and draw attention for all the right reasons.
"A floral top is a chic piece for any wardrobe and when it's combined with lace, you are definitely on to a winner! Plus the darker middle helps accentuate and flatter your waistline instantly. This top is designed for YOU!"
- Mark Heyes