Be inspired in this iconic 4-in-1 dress from the latest Edit by Mark Heyes. This stylish and versatile dress is one of Mark's favourites and can be worn four different ways. The design is reversible with two bold prints to choose from and the dress also lets you select from either a V shape or round neckline simply by turning the dress around. We asked these four lovely ladies to try on our new 4-in-1 dress and tell us how they would wear theirs!
The monochrome colour of this dress will never go out of style so is sure to become a wardrobe staple. This subtle micro print oozes elegance and would be a great option for wearing to the office. The floaty chiffon sleeves and flattering knee length of this dress skim over any areas you may feel insecure about so that you feel your most confident. Pair with tights, boots and our biker jacket for the perfect transitional outfit for autumn.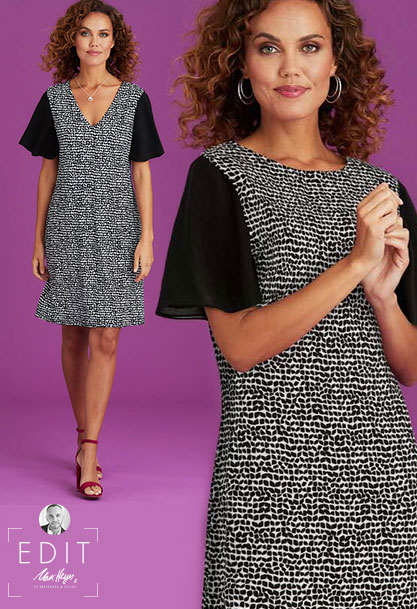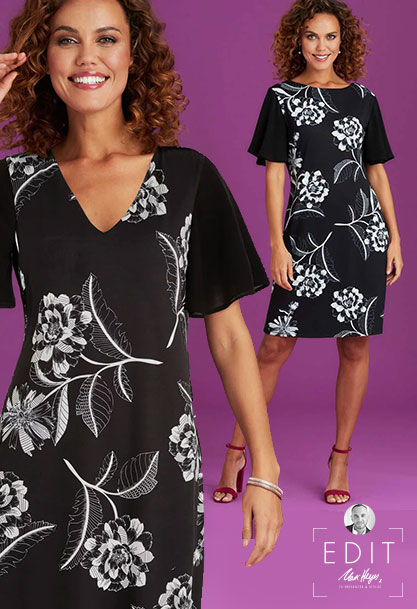 This statement feminine floral print is perfect for those moments when you want to stand out. The intricate detailing on the flowers gives the dress that extra touch of luxury and elegance. Accessorise with your favourite heels keep it simple with black or why not add a dash of colour! This option is great if you want a dress for those special occasions or simply a fabulous lunch with friends.
Fancy a bit of colour in your wardrobe? The 4-in-1 dress is also available in this stunning rich navy and purple colour.