With race season in full swing, it's never too late to start planning your outfit for that special occasion. Today were using Royal Ascot as our event inspiration and as our official style consultant Mark Heyes is presenting, we can't wait to tune in and see the lovely outfits and fabulous fascinators amongst the guests. So, whether you're attending Ascot, or your local ladies day, or even just looking for a summer dress for that special occasion, here's our recommendations of what to wear…
Nothing says summer like wearing the colour orange! This gorgeous Magnolia printed dress is easily one of our favourites this season. With a double layer chiffon shape, the cut of this dress is designed to flatter a fuller figure by carefully disguising the tummy area, whilst the lightweight fabric means you can keep cool all day long.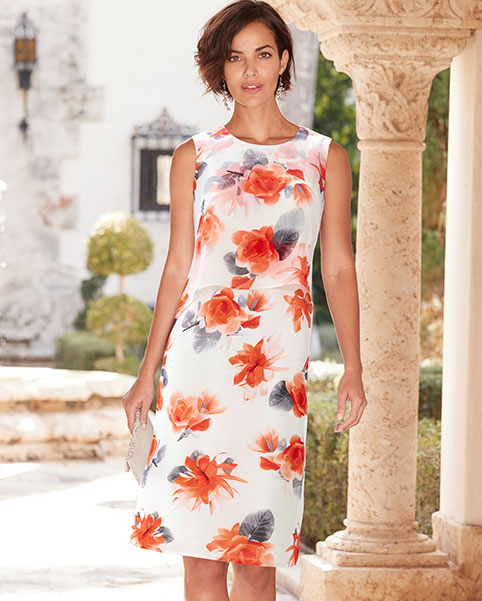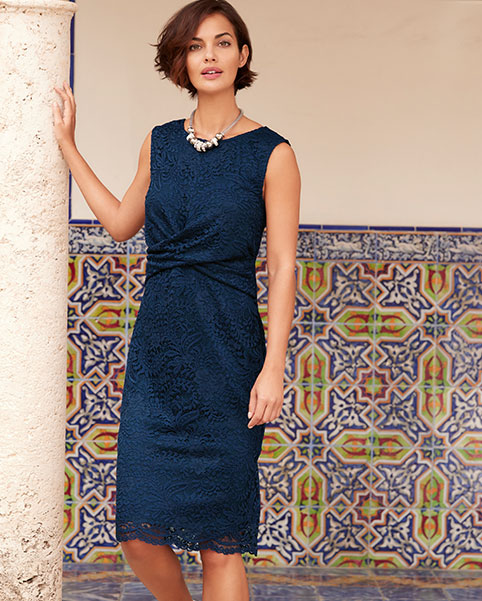 Looking for something incredibly sophisticated that you can bring out year after year and still look timeless? This navy lace dress does just that! Suitable for summer styling or winter wearing, just alter your accessories to make this frock the dress of the season, every season! With a tie-knot detail beneath the bust, this dress pulls you in and accentuates your waistline, whilst the double layer disguises and lumps and bumps you may want to keep hidden. Team with neutral heels, then just add your fascinator and you're good to go!
If you want to feel a million dollars this summer, why not treat yourself to a luxurious looking frock. Not only is this formal dress stylish and elegant, it's also designed to be incredibly flattering! Featuring applique ribbon detail and a full, floaty A-line skirt, the vertical lines that work their way down this dress and through the delicate rose print create the optical illusion of a much smaller waist. Perfect for making you feel fabulous for a special occasion! Choose either white, black or turquoise accessories to really make the full outfit stand out from the crowds at the races!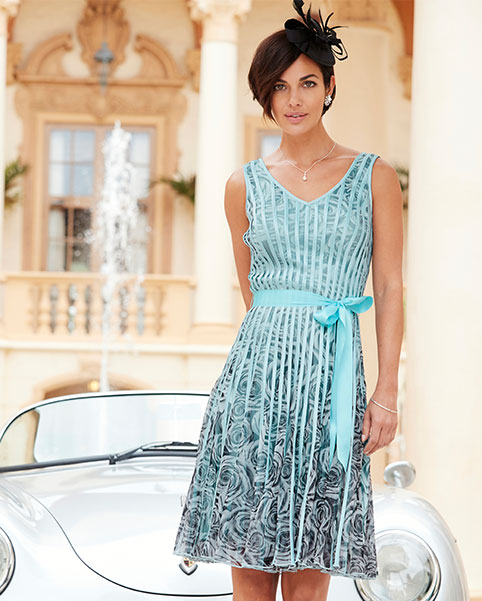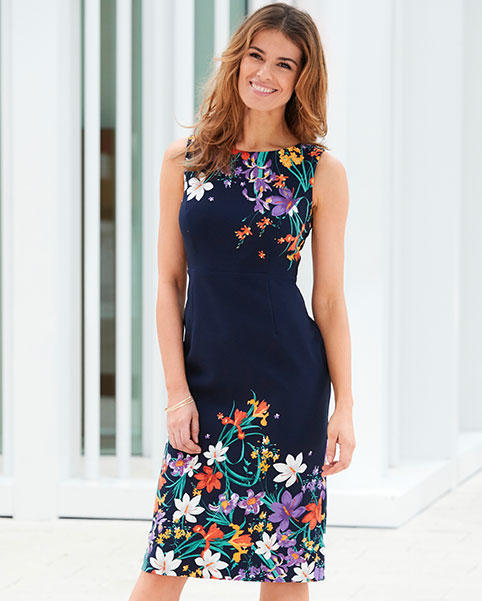 Now this dress is a clever one! When it comes to pattern placement we sometimes have to be very strategic in order to create the most flattering effect on our figures. The floral print on this dress means all of the attention is drawn to either the top or the bottom of the dress. This is excellent if you're tummy conscious, as all attention is diverted away from your area of concern, whilst the dark fabric slims the area! What a clever combination of colour and pattern, designed to make you look and feel fabulous!
The colour of coolness, freshness and the sea breeze, the colour of your favourite cocktail, the colour of vigour and courage… It's all about the colour of mint! A softer shade of green and turquoise, mint green is a great hit for the up and coming seasons and we can't get enough of this fresh shade! Universally flattering for almost all skin tones and so fabulous in combination with white, black, peach, beige, navy and almost all the shades of rainbow… what's not to love? This beautiful, empire line, lace dress provides a flattering fit and is sure to make a statement at your special occasions this season. Pair with the matching lace cover up for a perfect look.