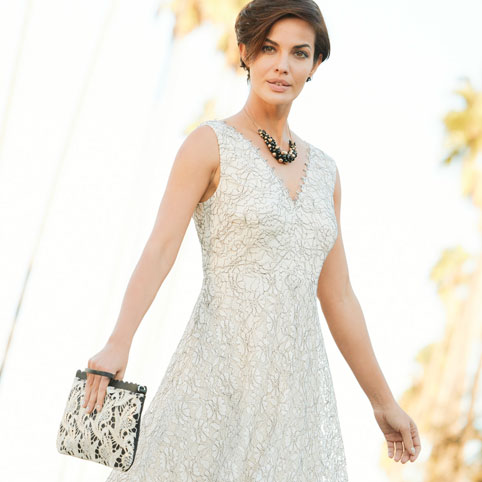 Wedding season is quickly approaching. We're sure you've already received the invitation, booked the accommodation, and arranged your travel… but what about the outfit? No one wants the last-minute panic of worrying what to wear, so why not plan yours in advance and avoid any pre-wedding guest nerves. Weddings are the perfect time to really push your fashion boundaries! As it's a formal occasion, everyone expects your style to be a bit bolder, a bit more vibrant and just generally a bit more fabulous than usual! Which is why weddings provide the perfect opportunity to step out of your fashion comfort zone for the day and really feel stylish in a show-stopping outfit.
Our first pick is certainly bold and beautiful, but also perfect for a wedding guest or Mother of the bride outfit. The fit and flare shape of this number creates the appearance of a smaller waistline and a flattering silhouette. If you're arm-conscious, team this dress with a short crepe jacket for a coordinated and luxurious look.
Have you heard the news? Bright colours are the new neutrals! Coral is the undisputed colour of the summer and has been loved by the fashion world and celebrities alike. It's a warm, bright, energizing colour, often associated with the sun, sea and sand. But we understand how it can seem like a daunting colour to wear under first impressions… Our one tip for the season would be to embrace it! Try something new and it may just surprise you… This dress creates a bold yet versatile effect that will inject a new energy into your spring wardrobe and the delicate embroidery detail makes it perfect for a special occasion.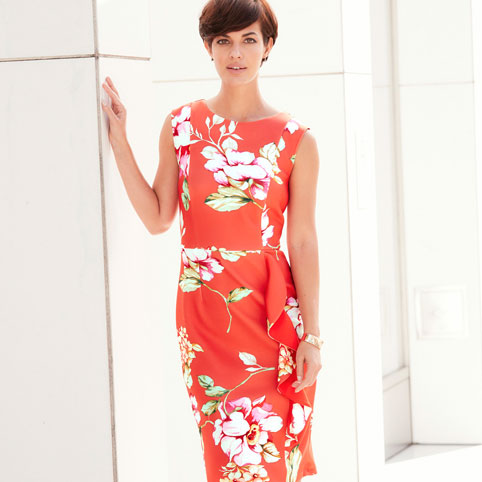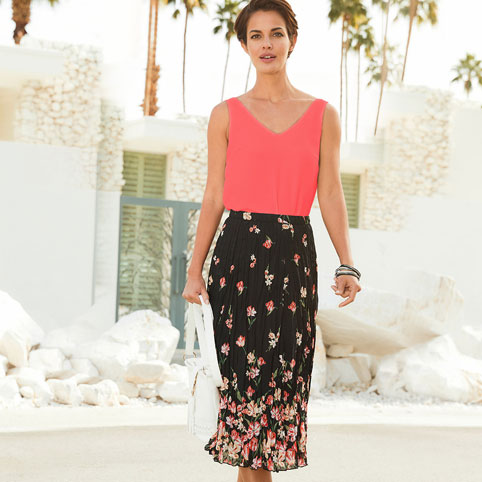 If you have trouble finding a dress that fits you perfectly because you're a different size on your top and bottom, a two piece can be the easiest solution to your occasionwear outfit problems. Style our Printed Crinkle Skirt with a simple yet sophisticated plain formal top for an all-round elegant wedding outfit. The skirt provides so many benefits, but one of the best is the fact that it requires no ironing at all! Making it perfect for the weddings you have to travel too – simply throw it in your suitcase and forget about it until the big day! And if you're conscious of your upper arms, then just add a lightweight shrug or a crepe jacket to complete the outfit. What's not to love about this look!?
If you're looking for an outfit that will cover your upper arms, don't think that your only option is to wear a jacket all day. The right sleeve can look incredibly flattering and elegant for a wedding occasion. The subtle lace detail that this dress offers really draws attention for all the right reasons! In a comfortable stretch fabric suitable for a full day of celebrations, this shift dress shape will flatter but not hug your figure. Team with neutral accessories such as a bag or shoes for a coordinated wedding guest outfit.