Heading into the heart of summer, you've probably noticed the glorious sunshine has decided to bless us with its presence - meaning we can finally begin to dress for the season! If you're looking forward to the season ahead but not sure what you should be wearing, Mark Heyes is here sharing his selection of favourite dresses this summer. Not only will he share trend prediction secrets for the months ahead, he's also telling us his top styling tips on how to wear the dresses below. Keep reading to find out this seasons must-haves…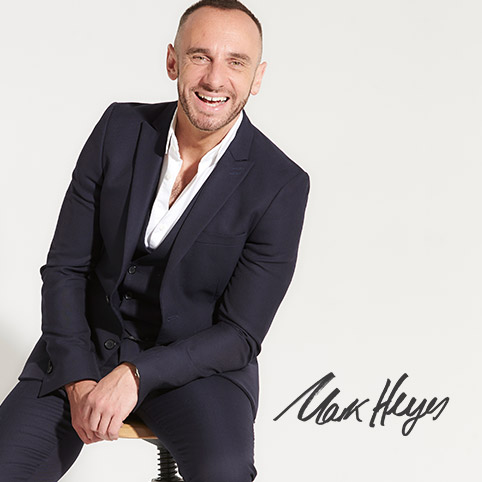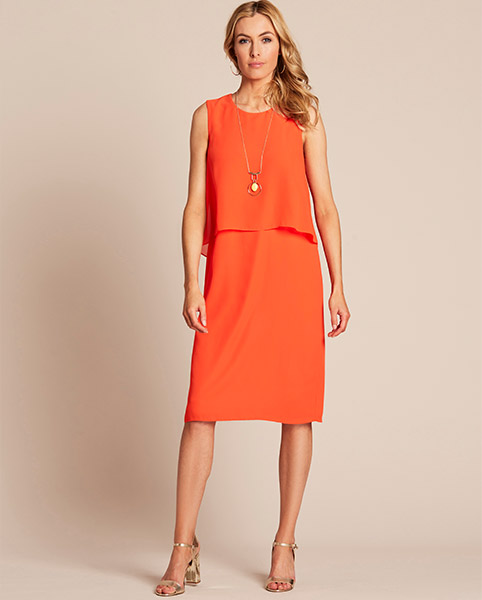 Earlier in the year, Mark told us how orange is going to be a huge colour this summer – and he didn't guess wrong! Whether it's marigold or marmalade, orange or tangerine; this colour is the one to be seen in this season!
"With those all-important summer occasions to dress for, having the perfect frock that flatters your shape is essential. This striking orange hue with detailed gold necklace is perfect for making a statement this summer."
- Mark Heyes
We completely agree with Mark! Summer occasion dressing can be hard, but it doesn't have to be. Search for a style that will flatter your figure by looking for key design details like this double layer top. If you're tummy-conscious, this small detail will draw attention upwards and away from your areas of concern.
If you're looking for a day dress that will be suitable for an summer BBQ but also informal enough for a quick trip to the shops, this frock will be the one to see you through the summer in style. But not just summer, Mark tells us why this dress will be worn all year round…
"This is the perfect dress to see you from summer to winter. The fabric will keep you cool during the warm spell and can be layered with a knit in winter. Plus the colours are so complimentary to all seasons; it's truly a dress that never goes out of style. Who doesn't love a wardrobe all-rounder!?"
- Mark Heyes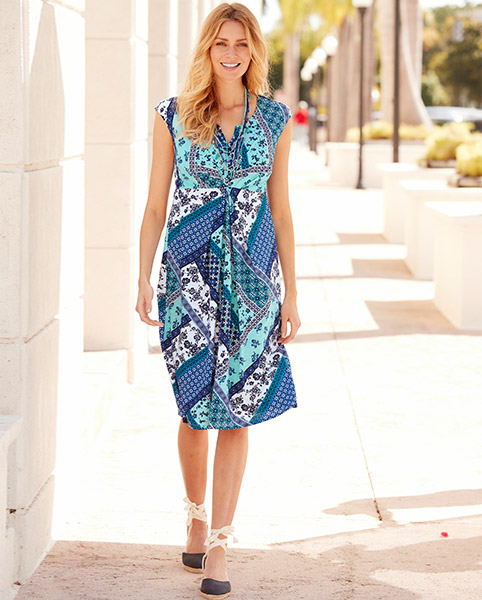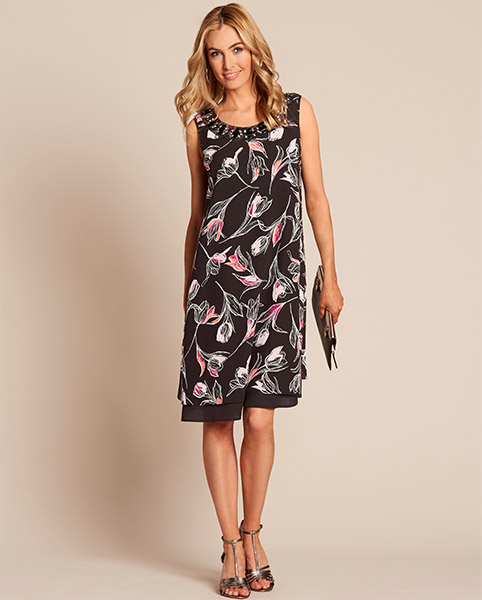 It's the time of the year where we've all got a party invitation to RSVP to. Sending the confirmation is easy – it's finding the outfit that can be tricky! To get the most value out of the dresses you buy, think about what styles will be suitable for all occasions – Weddings? Birthdays? Garden parties? Choose a formal dress that has the power to be dressed up or down for all occasions.
"This sleeveless tulip print dress is both bold and beautiful. The embellished neckline gives you that extra attention to detail without the hassle of choosing accessories. Everyone loves a bit of sparkle!"
- Mark Heyes
"Mismatched stripes are one of the key looks from the runways and the bottom half of this dress does all the hard work for you - perfect for making that modern look so easy to wear."
- Mark Heyes
As always, Mark knows what he's talking about! Stripes are incredible flattering, and the black colour block top of this dress slims the upper torso area, whilst the stripes create an on-trend chic look.
Plus this dress is incredibly versatile! It's amazing how a frock can take you from day to night with just a few minimal changes. Slip this dress on for easy day time dressing by pairing with a similar denim jacket and flat sandals. Then when the evening comes, switch up your accessories and opt for a bold statement necklace and heels to create a glamorous night time outfit.