Can you believe how quickly this year is flying by? As we get further into the year, our diaries begin to get booked up with plans for the upcoming weekends. The dates have been set for the family weddings, the days at the races, and even the fancy business get-togethers... And although these dates might seem far ahead right now, it's surprising how quickly the time flies! As these occasions are one-off events, it's important to look and feel your best and that's why it's never too early to start planning your look. Hair is often overlooked as a key part of an outfit, but really hairstyles should be carefully considered to be styled in relation to your outfit. Here are a few ideas of styles to ask your hairdresser for, or if you're feeling technical, have a go at styling them yourself!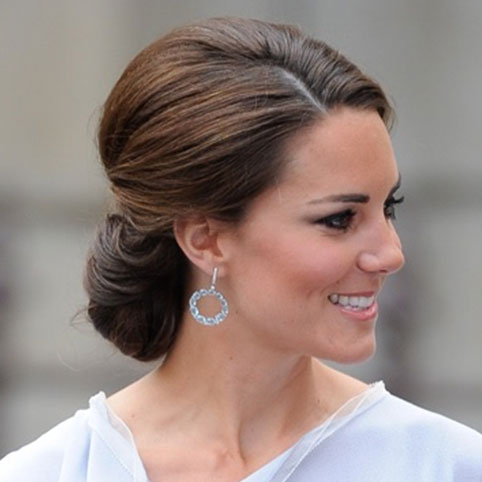 THE CHIGNON
Sutable for medium to long hair
Styled beautifully by our queen of chic hair, Kate Middleton, the chignon style is a sleek and elegant up-do perfect for a formal occasion. With a medium skill level required, you could definitely have a go at trying this one yourself at home. But if you're treating yourself, ask the hairdresser for a sleek Chignon style, and they'll know exactly what to do! For a flattering full outfit, choose a low neck line to really accentuate the elegance of this hair style. For extra glamour points, add a pair of statement earrings like Kate's to create a sophisticated red carpet look.
THE BRAIDED BUN
This hairstyle requires a very low skill level, and can easily be done by you at home without the need of any professional assistance. As fashion queen, Sarah Jessica Parker shows; simply tie your hair in a sleek tight ponytail then plait the hair from the top to the bottom of your ponytail. Wrap the braided hair around your hair tie and secure with another hair tie and/or hair grips. This is a super fun and easy hairstyle that you can achieve in just a few minutes. Perfect for a party look or for a more corporate business event.
THE FRENCH TWIST
Suitable for all hair lengths
Hollywood beauty, Eva Longoria shows us how to wear the French Twist style with poise. This classic up do is chic and timeless, plus with all the hair swept up from your neck, it's the perfect do for a warm summer wedding. But it's not just a classic up do for wedding or cocktail evenings; this look is also perfect for formal gatherings like conference or seminars. Position your hair with a side sweeping fringe if your weary of age lines on your forehead, this is the perfect way to cover up lines, whilst creating the appearance of thicker more voluminous hair.
THE TWISTED LOW ROLL
Suitable for short to medium hair
This hairdo is one you can possibly achieve by yourself at home. Simply curl your hair from the ear down using a thin curling wand, keeping the root straight and sleek. Then gather the hair to one side of your head (if you have a side fringe, we recommend taking the hair to the same side as your fringe). Bunch up the hair and secure with bobby pins. It's as easy as that! But if you want a professional to do it for you, simply show this picture of the beautiful Julie Bowen, and they'll know what to do!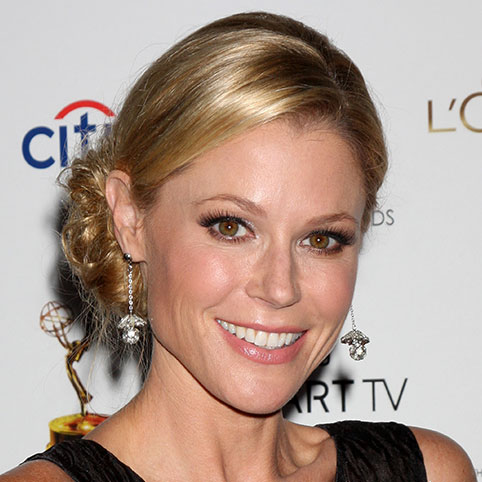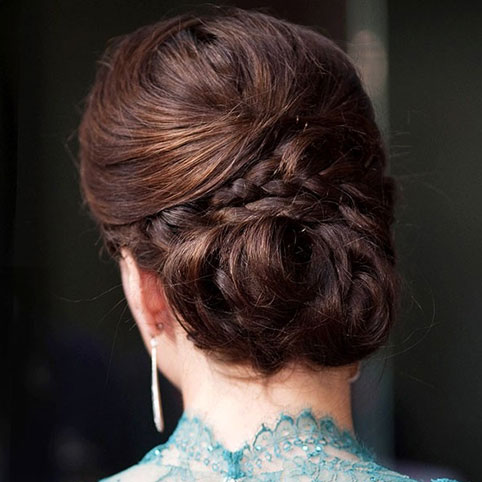 THE BRAIDED CHIGNON
Suitable for medium to long hair
Kate does is again! She knows when to pull out all the stops with a sleek up-do, and formal occasions are the perfect opportunity. The chic style is a level up from the classic Chignon, as braids have been incorporated to create a modern an intricate look. Now this one requires a high skill level, so we recommend heading to the hairdressers with this request – but the end result will definitely be worth it. Take tips from Kate and team this hairstyle with an outfit that has a beautiful back detailing.
THE BOUNCY BLOW-DRY
Suitable for all hair lengths
Sometimes it's the simplest styles that make the biggest statement. There's nothing quite like a classic blow-dry, as shown here by the wonderful Helen Mirren! Ideal for a spring wedding or a big celebration party! We're sure this year will bring you plenty of special events, so make sure you're feeling fabulous whilst enjoying them! Wear this style with a square neckline to really show off your textured waves.