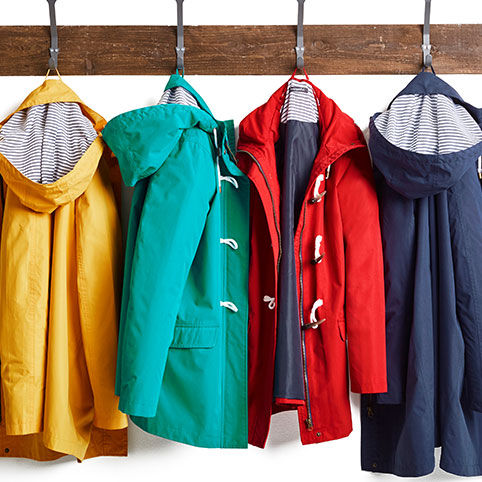 From the Beast from the East to Storm Emma; it's safe to say we've had our fair share of crazy weather here in the UK lately! It's hard to believe spring is apparently "just around the corner", which is why we're not giving up on our waterproofs just yet! Unfortunately we all know too well that rain isn't just for winter, it will find us all year round, so when it does, it's important to stay calm before the storm! Stay dry in style with our selection of vibrantly coloured waterproof macs. In a variety of shapes, lengths, colours and cuts, there's a waterproof coat for everyone in our collection…
The Long Length Toggle Coat
If you often find yourself on long country hikes or drizzly morning dog walks, then this classic toggle coat will be your saviour! In a longer length to provide extra coverage from the treacherous weather, you can stay warm and dry whilst looking stylish. Available in green or navy this jacket will be sure to brighten up even the rainiest of days!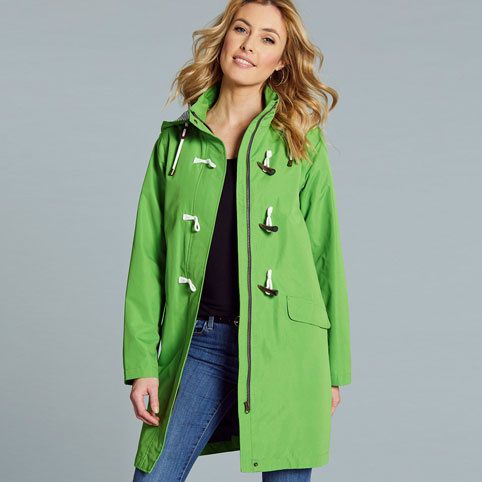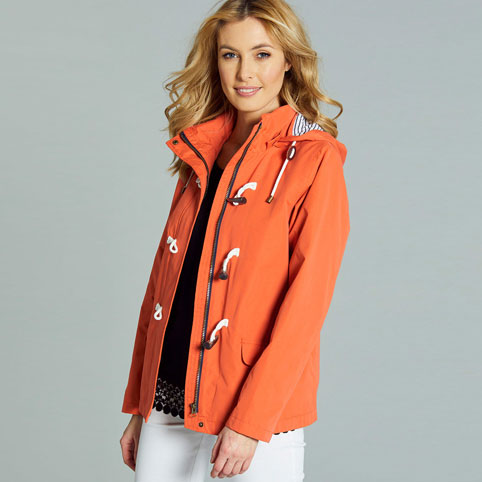 The Short Length Toggle Coat
If long length isn't your style, don't worry! We know our ladies love a different length option which is why we've created this Toggle Coat in 3 different lengths and a variety of colours. Inspired by the nautical trend, with a striped lined hood and toggle fastening details, this waterproof jacket is the epitome of rainy day chic! Just team with Susie Slim Leg Jeans and a pair of boots and you'll be ready to beat the April showers in no time.
The Classic Mac
Who doesn't love the look of a classic yellow mac? Inspired by our favourite bear with a quintessentially British feel, we can't help but adore this sweet jacket by Trespass. Fully waterproof with taped seams to keep water from penetrating the stitching, this jacket will be sure to have your back during the spring showers. Wear with indigo blue jeans and watch as the two colours complement each other perfectly!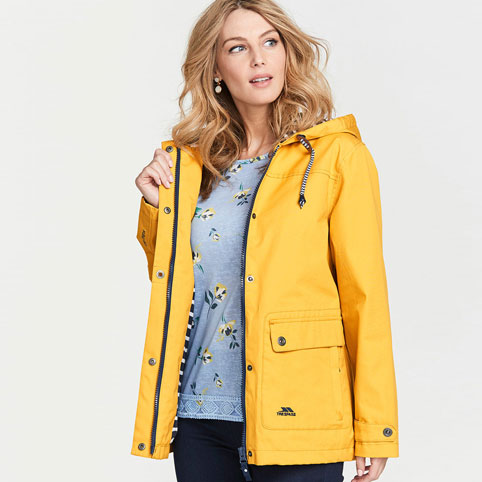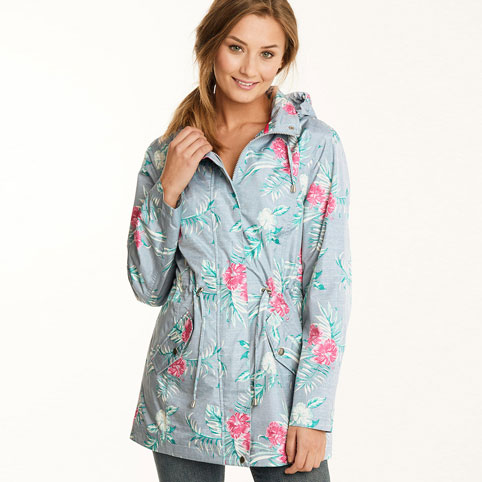 The Printed Mac
If bold colours aren't your style, why not try a muted print instead? With a grey base colour and a subtle tropical inspired print, this mac says summer even if the weather outside doesn't! Fully waterproof and fully lined, and featuring a concealed zip to keep you warm. Plus this style features a detachable hood, making it perfect for the rainy days and the dry days! Although we're wishing for the sun to make an appearance soon, these gorgeous macs certainly bring the silver lining to a rainy day
Shop Coats