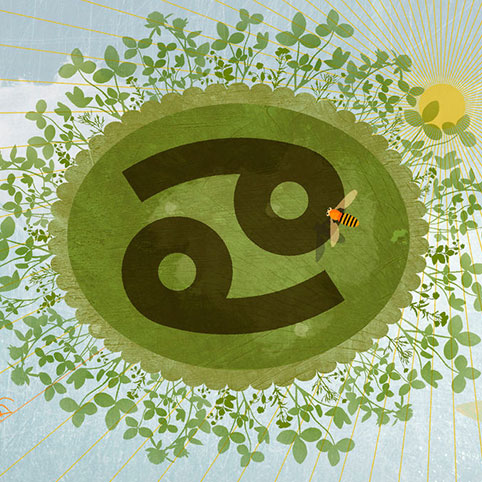 The stars indicate July will be a calm month and suggest that, on the whole, we're in for an easy time. However, a new moon will take place in Leo – the first of two new moons for the sign this year, with another coming in August. This will have a far-reaching effect. New moons signify a chance to start again, so having two in a row in Leo means you have double the chance for change in your life, whether that's your sign or not.
While July looks relatively breezy for most of the signs, remember that we're a month away from the next eclipse season, which starts in August. That means that the energies are hotting up. It also suggests that if you're craving a peaceful and calm life, then you really need to relish any chances you get for that in July because August could be more intense!
CANCER
23 Jun to 23 Jul
The full moon in your opposite sign will turn your attention to your love life this month. If a certain relationship is doing you no good, it could be time to let it go. Although for some, a relationship that has been troubled for some time could actually turn a corner now. This month also brings the first of two new moons in your cash zone, leading to exciting financial developments.
Power date: 9 July – a great day for making a good relationship even better.
LEO
24 Jul to 23 Aug
The following months promise important developments. In July, a new moon will occur in your sign. In August, you will have another new moon and an eclipse. Change is imminent, and now is the time to start thinking about how you want your life to be different. Consider where you know you must make a change. The more proactive you are about changing your life now, the better the future will be.
Power date: 26 July – you're on fire today! Plan to be busy or you'll be very restless.
VIRGO
24 Aug to 23 Sep
Over the coming two months, two new moons fire up your spirituality zones. This development makes it an important time for you to step back, contemplate the universe and reflect on your place in it. This will help you gain perspective, especially if it's something you're not used to doing. Also work on your fears – acknowledging where they came from will help you release them.
Power date: 26 July – suddenly it's oh-so much easier to communicate with others.
LIBRA
24 Sep to 23 Oct
Normally, each sign gets one new moon a year in their wishing zone. This year, you're the only sign to get two of these – and one of them is an eclipse. This means your wishes are more likely to come true now than ever, so keep on wishing. This is a sociable time for you and a good opportunity to make some important new friends. Remember, the secret to helping your dreams come true is to visualise them happening.
Power date: 18 July – a day when you should feel like the world is actually on your side!
SCORPIO
24 Oct to 22 Nov
If you're working or studying, July is a vital month, as the first of two new moons take place in your tenth house, where you keep your ambitions. How do you want to make your mark on the world? This is the time to start showing everyone what you have to offer, professionally or personally. If money has been an issue, matters should start to resolve in your favour.
Power date: 2 July – you have high energy today, so use it wisely.
SAGITTARIUS
23 Nov to 21 Dec
For the past two years, Saturn has been trolling his way through your sign and your life, making you feel heavier than normal. Thankfully, some good news is on the way. First is the fact that this Saturn cycle will finish at the end of this year. Be as responsible and upstanding as you can be between now and then. Elsewhere, a double Leo new moon (this month and next) suggests adventure beckons, as opportunities for study and travel open up.
Power date: 18 July – good for you, good for love, good for money. Enjoy!
CAPRICORN
22 Dec to 20 Jan
The full moon this month is taking place in your sign, so it's time to turn a corner, either with work or relationships. If you're wrapping something up in your life, then you're doing it at the right time. If you're wondering when a difficult phase is going to end, this full moon is all you need to turn a corner. Meanwhile, the double Leo new moon suggests a new start for you romantically or financially.
Power date: 24 July – you should be feeling the love (or the abundance) today.
AQUARIUS
21 Jan to 19 Feb
Big news for Aquarians who feel as though their love life needs a boost: you have the first of two new moons in your love zone this month, which suggests big developments. Now is the time to work on your relationships, and while issues could come to the fore, you are well starred to deal with them. Plus, if you're single and open to new love, it could be coming your way.
Power date: 29 July – a day when love and money should be going your way
PISCES
20 Feb to 20 Mar
It looks as though there will be some changes to your everyday life very soon. The new moon takes place in your sixth house, which is all about your daily routines, work and health. If you want to make changes in any of these areas, it's time to do so, with the confidence that you'll succeed. If you've allowed positive health routines such as exercise or meditation to lapse, these are what you need to re-energise.
Power date: 13 July – do something you love today. The positive energy will be good for you.
ARIES
21 Mar to 20 Apr
Is it time you had some more fun? July sees the first of two new moons in your fun zone, which means the universe has a super-strong message to you about living life to the full. Perhaps it's time to bring some romance back into your life? It's never too late. If you're the creative type, use some of your downtime to indulge in your talents, whatever that means to you.
Power date: 20 July – your energies should start to rise as you get your 'fire' back.
TAURUS
21 Apr to 21 May
If you're one of the Taureans looking to buy, sell or renovate your house, you have amazing stars now as the first of two new moons fires up your zone of all things domestic. Whether you live alone or with someone, change is afoot. If you've had a family upset, this is the month to start healing. Make the first move, since you have the celestial support. This could be your lucky month.
Power date: 18 July – make the most of this day; luck will be on your side.
GEMINI
22 May to 22 Jun
After more than two years of having dreary Saturn in your opposite sign, you could be feeling a bit weary. This planetary alignment is still in play until the end of the year. However, thanks to a new moon in your mind zone, there will be a rare opportunity to change the way you're thinking. Pay special attention to this if the demands of the past few years have seen you slip into negative thought patterns.
Power date: 24 July – a marvellous day to make a big change in your life.
Your monthly horoscope from Bon magazine's astrologer Yasmin Boland of www.moonology.com