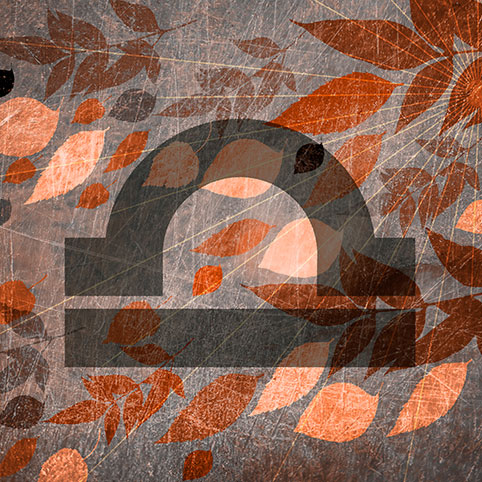 Expect emotions to be running high as October begins and the Full Moon takes place in the sign of Aries on 5 October. Full Moons are when matters come to a head and pose an opportunity to let things go. This is especially true this month as it clashes with the detox planet, Pluto. Take this chance to let go of anything that no longer serves you, whether that is a fear, an argument, an unhealthy habit, a toxic relationship or even clutter in your home.
The Full Moon then gives way to the New Moon, which will take place in the sign of Libra on 19 October – a time to set our intentions and make our wishes. Because this is 2017's only New Moon in the relationship-orientated sign of Libra, this is the optimum time to focus on your most important relationships, personal or professional. Better yet, make it an official intention. Write down your wish on the day of the New Moon, along with the action you're willing to take to make it happen. Believe that your relationship will improve and just see what occurs.
The other major news of the month is that Jupiter, the planet of good luck, is going to be moving into the sign of Scorpio – which is good news for everyone!
LIBRA
24 Sep to 23 Oct
The lucky planet Jupiter is leaving your sign, but there's no need to panic. It has been in your sign for a year so hopefully you have realised how confidence makes life flow more smoothly. Remember that, practise more self-love and keep believing in yourself. Jupiter's good luck will now move to the part of your chart that is all about cash, property and possessions, so expect good things in those departments in the year ahead.
Power date: 14 October – a day for loving yourself
SCORPIO
24 Oct to 22 Nov
This is the start of an amazing year-long cycle for you. From 10 October, you have the lucky planet Jupiter in your sign. You have the heavens on your side, your horizons are going to expand and you're going to get a whole new perspective on life. You still have to work hard for what you want, but every effort you make towards your dreams will be backed up by the heavens. The year ahead is a time to seek adventures and take a few chances. Just do it!
Power date: 10 October – make the most of your new-found luck
SAGITTARIUS
23 Nov to 21 Dec
Power date: If years of hard work have left you feeling ragged, there is some relief coming this month. The planet of plenty, Jupiter, is moving into your Spirituality Zone, where healing can take place. If you're almost at the end of your tether, try some spiritual practices, such as yoga or meditation, to help you feel better. You could also try saying affirmations or writing a gratitude journal. Expand your spiritual life now and it will really lighten your load.
Power date: 10 October – you should feel a big energy shift today
CAPRICORN
22 Dec to 20 Jan
Let's hope you're feeling sociable – Jupiter is making its annual move this month and slipping into your Social Life Zone. You can expect plenty of invitations to come your way now and throughout the coming year. You will feel more fun and more popular than you have been in more than a decade, so lap it up! This part of your chart is also about wishing, so if you're hoping for anything, it now has a bigger chance of coming true. Expect the best!
Power date: 27 October – a very good day to have a big conversation
AQUARIUS
21 Jan to 19 Feb
The new and exciting Jupiter cycle will see you celebrated for your achievements in the coming year. If you work, then you'll be moving into the best career cycle you have had in 12 years. It will be the ideal time for you to expand and achieve greater successes. If you don't work, then you will be recognised for other achievements – perhaps for charity work, being a great parent or grandparent, or even for your gardening or cake-baking talents. Enjoy it!
Power date: 19 October – a day when you can turn things around
PISCES
20 Feb to 20 Mar
Do you wish you could get away from it all? That wish could come true sooner than you think, as mighty Jupiter makes his once-every-12-years visit to your 9th House of Travel and Adventure. Is there somewhere you've always thought of going? There's no time like the present. This is the moment to expand your mind, too. Doing a course of study will open your eyes. If you're an expert, it's a great time for you to teach.
Power date: 26 October– you can expect some extra attention today
ARIES
21 Mar to 20 Apr
How would you like more romance or more money in your life? As planet of plenty Jupiter moves into your 8th House of Romance and Cash for a one-year stay, you could have more of both – if you play your cards right. If your intimate life has been decidedly lacklustre lately, do something to remind your partner of the days when sparks flew. If you're single, why not give online dating a try?
Power date:2 October – you have 'the power' today – use it!
TAURUS
21 Apr to 21 May
Taureans, along with Scorpios, have the most luck coming their way in the coming year. This is because the lucky planet Jupiter has moved into your opposite sign of Scorpio and its energies will be shining down on you for the next 12 months. Whether you're studying, working or retired; single or attached, expect to get luckier. This is also going to be a better time when it comes to your relationships, as you will be easier to get along with.
Power date: 5 October– you should feel full of energy
GEMINI
22 May to 22 Jun
Geminis have been under a lot of pressure for the past two years. Saturn has been bearing down on you and making life feel tougher than it should. That cycle doesn't end until December, but this month does bring you some light relief. Jupiter is back in your 6th House of Daily Life for the first time in more than a decade. As a result, you should now start to enjoy your days more than you have done for a long time – so plan some fun things to do!
Power date:14 October – a total 180° turnaround is possible now – expect change
CANCER
23 Jun to 23 Jul
There is a lot of positivity forecast for you this month. For the first time in more than a decade, the good-luck planet of Jupiter is moving into your 5th House of Children, Fun and Creativity. If you have kids, Jupiter will bring them good luck over the coming year. This also means your situation with children (your own or someone else's) should be happier now. You will also feel your creative juices flowing more than ever in October.
Power date: 3 October – this day looks very good for you and your important relationships
LEO
24 Jul to 23 Aug
Where would you be happiest? Now is the time for you to answer this question and act on the answer. October is the best chance you have had in more than a decade to achieve the sort of personal life that you've always dreamed of. Don't hesitate. Decide where home is for you and do what it takes to get yourself there. It's never too late to create your dream life. This is the start of a happier home and family time for you.
Power date: 26 October – it could be your lucky day – take a chance!
VIRGO
24 Aug to 23 Sep
You have one of the greatest heavenly blessings happening in your chart right now. The planet of positivity, Jupiter, is moving into your Mind Zone, meaning it's going to be a lot easier for you think positively over the coming weeks and months. This is a good thing for anyone, but since Virgos tend to focus on problems rather than solutions, it really is fantastic for you. Think about what you want, rather than what you don't, and your life will change for the better.
Power date: 17 October – be bold and go for what you want
Your monthly horoscope from Bon magazine's astrologer Yasmin Boland of www.moonology.com