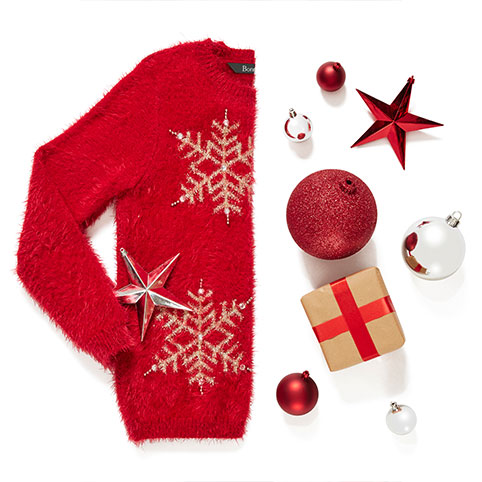 Can you believe it's November already!? Before we know it, it will soon be December - the month of advent, gift giving, and LOTS of fantastic food! December is often the busiest time of the year for all of us, and with so much to organise it can be easy to forget about your wardrobe at a time like this. But there's certain events we need to plan ahead for such as the annual Christmas Jumper Day on Friday 15th December! Whether you're celebrating it in the office, with the family, or just bringing the festive spirit into your day to day life, we've got the perfect selection on Christmas jumpers & tops to help you embrace the occasion…
FABULOUSLY FESTIVE…
If you're looking for a jumper that's as festive as it is glamorous, our Christmas tree knit is the one for you! The eyelash fabric makes it incredibly cosy and soft, whilst the subtle colours make it versatile and wearable. Wearability is incredibly important when it comes to choosing a Christmas jumper; you don't want a knit that's only good for one wear! This stylish jumper can be styled causally and glamorously throughout the lead up to Christmas with ease. Simply team with a pair of your favourite jeans for a relaxed weekend look, or for a more formal outfit try styling with our velour black pencil skirt.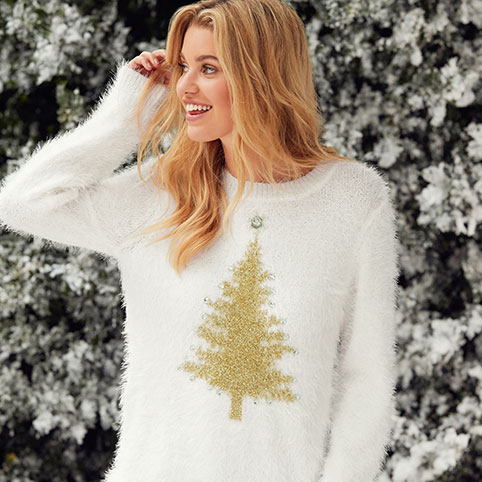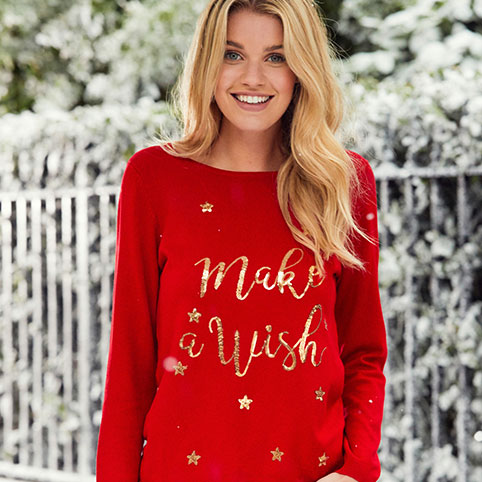 MAKE A WISH…
It's the most magical time of the year, so why not wear something equally as special to match the occasion. Our simple but stylish Make a Wish Christmas jumper is finished with a gold sequin design on festive rich red background. What will you be wishing for this Christmas? Don't forget you can enter our competition to Win Your Perfect Christmas, giving you the chance to make those wishes come true!
OH MY DEER…
December is the time of the year when your wardrobe can get away with so much more. Glitter? Tick! Cute novelty animals? Double tick! This fun jumper adds a bit of character and sparkle to your winter wardrobe but in a sophisticated style. This super soft knit features a pretty deer character finished with silver sequins and will look great worn with your jeans and boots as a finishing touch to your festive lunch outfit!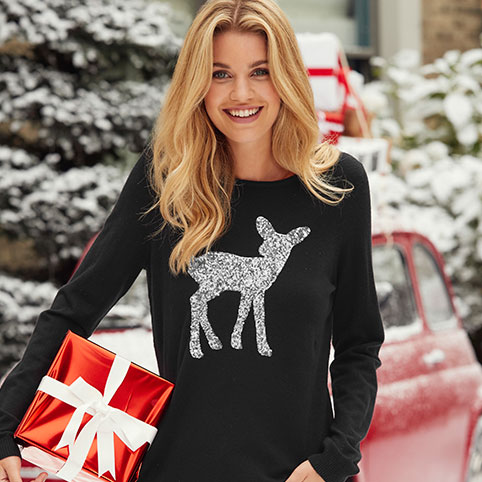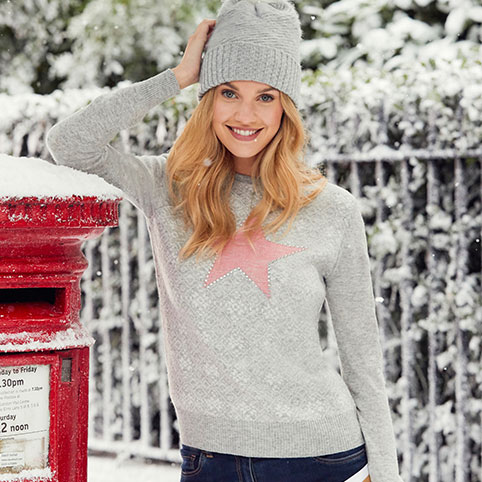 STARRY EYED…
If you're looking for a more subtle take on the Christmas jumper, this understated knit will be your go-to throughout the colder months. In a light grey Fair Isle print with a pale pink star design, this is the kind of festive jumper you can get away with even throughout January and beyond!
National Christmas Jumper Day is taking place on Friday 15th December 2017, so make sure you're prepared! We'd love to see your Christmas jumper pictures! Send them over to us on our Facebook page or tag us on Twitter and Instagram using the hashtag #BonChristmasJumper.