When it comes to your holiday wardrobe, there's one hero piece that your suitcase will love you for packing. A Sarong is perfect for those moments where you need to cover up slightly, but don't want to put 'proper' clothes on. They're extremely versatile and come in endless patterns, fabrics and colours, but most importantly, the lightweight fabric allows them to stay cool as well as comfortable in those hot temperatures!
It's hard to believe that one piece of material can create so many versatile look! Here's a few of our favourite ways to wear it...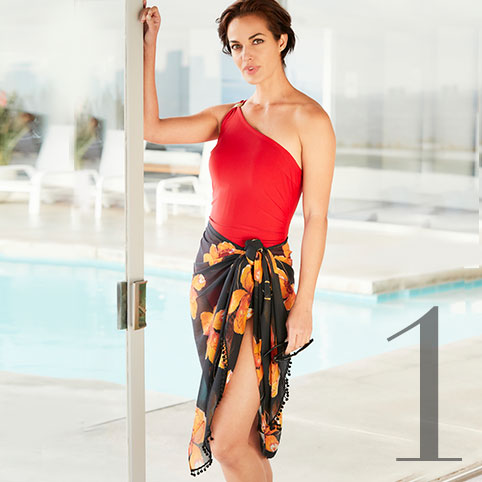 Style your sarong over your swimsuit to create a super chic beach skirt. A long skirt can be quickly created by placing your sarong at your waistline. Simply bring the fabric from the back to the front and tie the two ends together to achieve the look of a long skirt. Position the sarong so that the knot sits neatly on your hip, allowing a subtle but sophisticated slit in the skirt. If you prefer the look of a shorter skirt, simply begin the technique by folding your sarong into a triangle to start with. This will half the length, giving you the look you desire.
If you're looking for a little more coverage than the sarong skirt offers, then why not try the halter neck dress style instead. The halter neck shape attracts attention upwards and is the perfect shape for women with broad shoulders. You can easily create the halter dress by starting with the sarong wrapped around your back and bringing it underneath the arms. Then bring the ends up around the back of your neck, whilst overlapping them at the front. Finally, tie the two ends in a knot behind your head. We think this look gets 5 stars for poolside glamour!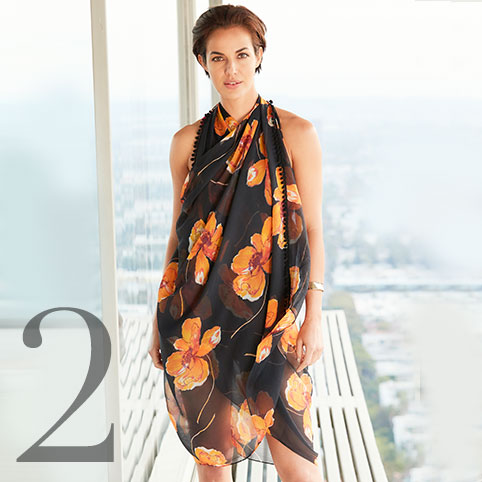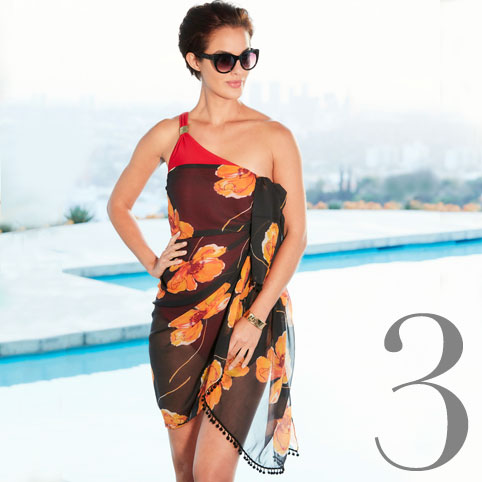 Our third look is one of our favourites! From beach to bar, this style of sarong is tired to create an elegant Bandeau dress. This strapless style shows off the shoulders in full effect, perfect for if you want to avoid tan lines; just team it with a swimsuit with detachable straps! Alternatively, teaming with our asymmetric swimsuit will really give this look a glamour edge. To create this effortless style, simply bring the fabric round from against your back, and tie in a knot just by your underarm.