As we eagerly await the return of warmer weather, we're excited about the fashion that this transitional period brings. Fashion at this time of the year is all about comfort! We've put away the party dresses post-Christmas, and we just can't wait to dress casually again. And what says casual chic like a classic stripe!?
Fearing horizontal stripes is a fashion rule of the past. We've been taught to think that horizontal stripes make you look wider than you are, but does anyone actually see this? We see plenty of fabulous women wearing stripes on a daily basis, and our reaction is never negative! A simple stripe is the easiest way of adding a touch of 'Parisian Chic' to any outfit.
For easy dressing and every day looks, line up for our collection of women's striped clothing...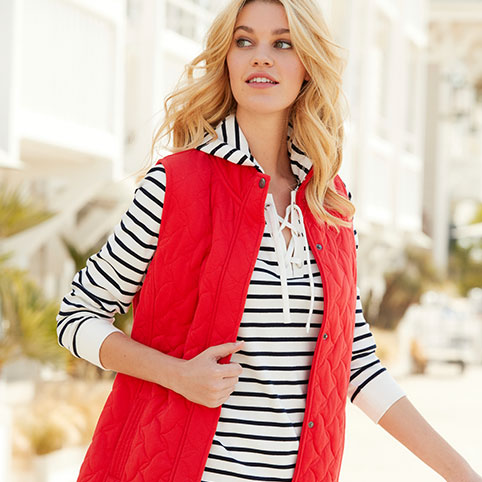 Nicely Nautical
This striped sweater has the classic Bretton look with its evenly spaced white and navy nautical stripes. But sometime classics need a refresh – that's why we've added contemporary features such as a lace up neckline, relaxed fit and a hood to create a modern twist on one of our classic favourites.
Team with a stylish and practical Red Gilet for ultimate comfort.
Beat the Blues
The best thing about stripes is that you can never have enough of them! Get the classic colours, and then build on your collection with a variety of different hues. One of our favourite colours for the season ahead is this refreshing baby blue shade. Bright, yet calming, it reminds us of warmer days!
But whilst we patiently wait for the weather to change, a Waterproof Coat is an essential pairing. This classic red style is one that will never go out of style and will transition from season to season with you.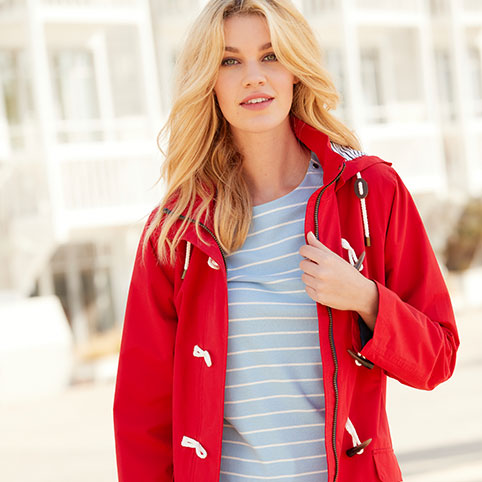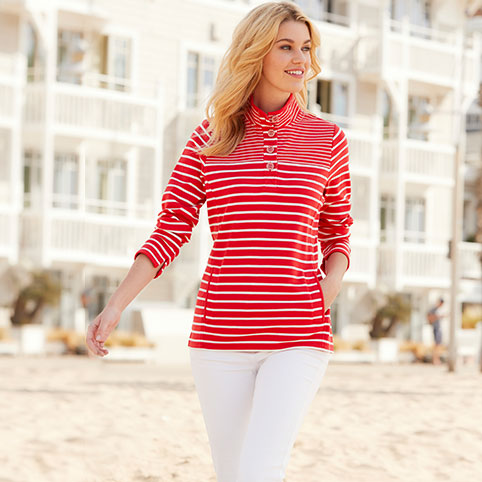 Slightly Sporty
Sporty, but not as you know it! Active and leisurewear doesn't always have to be skin tight leggings and racer back vests. What about the clothes you need for a long walk? A hike? Or even a Saturday morning bike ride? Team this funnel neck sweater with a pair of Jog Pants for a casual sporty look.
If the active angle isn't for you, don't fear! This sweater also makes a great throw on for everyday dressing. In a beautifully soft fabric that's made to last, you may just find yourself not wanting to take it off!
Mix Your Prints
Mix up a classic Bretton stripe top with a touch of floral. The mixed prints put a modern twist on a fashion classic, creating an overall look of effortless chic!
Team with a Julie Jegging jean for a comfortable and relaxed daytime look. Or for a smarter look, add a red lip, smart coat and classic court shoes to really get the most out of this versatile top. .